Sex is different for everyone. The best positions to make us come, the kinkiest acts to try, even the way you touch us changes from person to person. While one person might like slow and sensual sex, others might want it hard and fast. So what do we really want during sex?
It can be hard to figure it out, especially when it changes from person to person. Thankfully, there are a few common things we all want when we get into bed with someone new or a regular partner you find yourself in a sexual rut with. Knowing these things can help you figure out what to do in the bedroom, so try making sure you do these six things!
1. Enthusiasm
This might seem like a strange one, but we have all been there at some point. We've got into bed with someone only to feel like they aren't really as interested in sex with us as they should be. They aren't particularly enthusiastic about sex, and this can make all of the difference.
One of the key ways to show enthusiasm in the bedroom? Make some noise. No, you don't have to scream the house down. Light moaning if you are enjoying it is all we want. There's nothing quite as off-putting as your partner being silent during sex until the moment they come. You are left wondering if you are doing it right or need to change things up, so give us a hint with a moan.
2. Communication
Giving us a hint is good, but there are a few other things you can do to help your partner along. For a start, give us some compliments. Are we doing something right? Saying "that feels so good" is going to let us know it. We don't have to guess, and instead we can spend more time doing the thing you love.
Paying compliments in this way is then a great way to lead into dirty talk. Talking dirty is something that we all really want in the bedroom, but just how dirty you go can vary from person to person. For some, saying "I love it when you do that" is enough, while others want to hear you say "it makes me want to come when your lips wrap around my cock" and other dirty things.
3. Foreplay
Sometimes we just want to fuck. We want a quickie and don't want to spend time building up to our orgasm. We really just want to get down to business. But even when you have a quickie, you'll still be able to find time for foreplay, which is an essential of sex.
Foreplay doesn't have to be an erotic massage, or hours of oral and teasing. It can vary a lot, and you can actually do it without being in the same room as your partner. Going to meet up with them after work for sex? Send a text… or more specifically, a sext. Tell them what you want to do to them. You'll both get excited by it, and this simple bit of foreplay can get you ready for the action!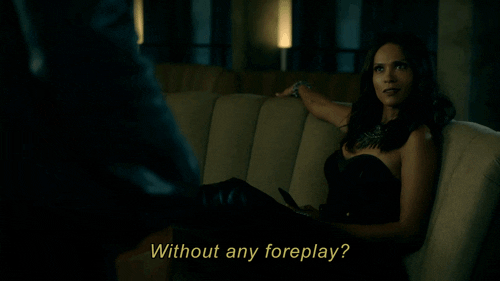 4. Lose the routine
When you have been seeing the same person for a while, you'll know what they like in the bedroom. This means that you tend to do the same things over and over again. You'll fall into a bit of a sex routine and this can suck… and not in a good way.
So you need to break out of the routine. Try doing new things, such as introducing a different sex act to the bedroom. You can even spice up foreplay by tryinng some sex games, just for that variety. Get creative and you'll notice a difference immediately!
5. Getting involved
You might like to be submissive in the bedroom. Taking orders from your partner or letting them take control is fun. It means you now exactly what your partner desires, but it is still important to get involved.
They say that it takes two to tango, so don't just leave it all up to your partner. We're not saying that you should suddenly become dominant in bed, just that you should try to be active during sex. This will make things far more interesting to your partner!
6. An orgasm
Okay, so we often say that an orgasm isn't essential each time you fuck. Sometimes, no matter what you do, it just isn't going to happen. But when we talk about the things we really want during sex, an orgasm is up there.
Orgasms are the ultimate release of pleasure. Whether you have had a slow build up or a quick arrival to orgasm, it feels intense. You are left feeling amazing and enjoying the after-orgasm glow, so you should at least aim for it for your partner. Not got there? Talk to them and find out why so that you can help them get closer in the future.
What you really really want!
We all have different desires when it comes to sex, but there are a few things we all really want when we get down to business. We might want them in different ways, but we still want them, and communicating with your partner can help you figure out what they really want without having to guess.
What are the things that you want the most in the bedroom? Which of the six things we've listed above is the most important to you? Let us know by leaving a comment in the box below!
Latest posts by Lara Mills
(see all)