When it comes to sex toys, you'll find that there are a rich variety of them to meet your every need. Whether you are hoping for some intense clitoral stimulation or you'd rather explore anal play, you'll find the toy for you. That said, there are also some weird sex toys out there that nobody seems to have asked for.
These weird sex toys might seem like a good idea on some level, but most of the time they just seem odd and undesirable. What are these toys and why might someone decide to make them?
The dildo with attachable face
If you're in a long distance relationship, seeing your partner can really help to connect you when you are enjoying phone sex or a hot Skype sex session. One company decided to take that further by creating a sex toy that pairs your dildo with your partner's face.
The image below should give you a good idea of what this toy is like. Basically, you'll commission a dildo with a small figure at the end of it. You will then get a sculpted head of your partner to stick on the end of it.
They sculpt the head based on a picture you send in. Because of the constant back and forth between you and the company to make sure it is right, it can take 2-3 weeks to receive it. Not put off by this? It costs $88 for the "novelty toy", with a further $16 or worldwide shipping. That's a lot of money for a joke!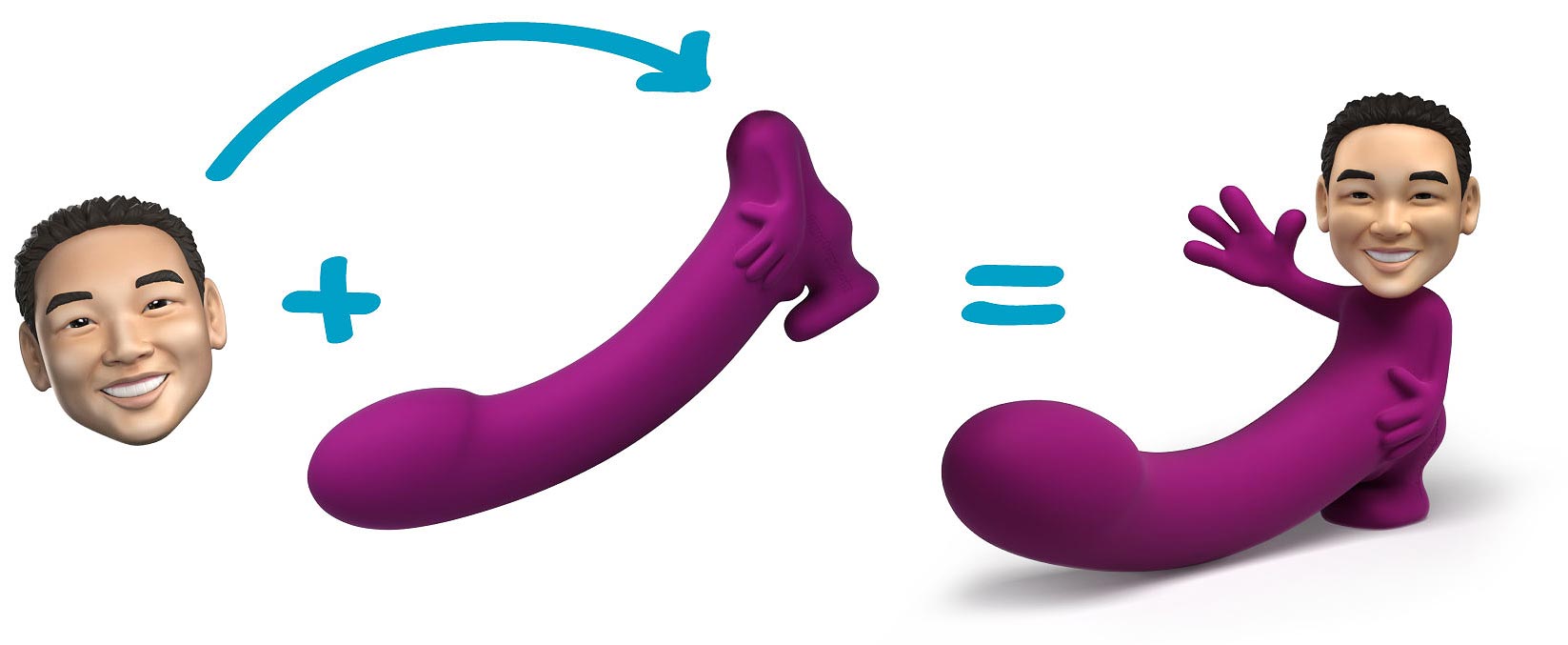 The vibrator with a camera
You might find that you are curious about just what goes on in your body when you have an orgasm. You may know how it feels and be able to describe it, with good accuracy, to your partner, but what can you do if you want to show them?
Svakom hope to help you there. They created "the world's first internal camera vibrator". Basically, it is a vibrator with a camera inside of it so that you can see exactly what happens when you orgasm.
Worried about the fact that it is going to be dark in there? Don't worry, as the Siime has "four hidden LED lights at the tip of the camera" so you can always see what is going on. You can hook the camera up to your computer to see what is going on. This might be an interesting idea for the curious among you… but is it worth $180.99? We're not convinced.
The dildo of ashes
There seems to be no good way to introduce this next topic to you… so we're just going to blurt it out. Someone decided that a good way to honour someone's memory would be to put their ashes into a dildo.
According to the creator of this item, it "allows a widow to go back to the intimate memories of a lost beloved one". The dildo, which can hold up to 21 grams of ashes, comes in a memory box.
The box features speakers, so you can play music, a drawer for items, and a place to put jewellery. It even has an atomizer bulb so you can keep your lover's old cologne or perfume in there. In a way the box itself seems like a nice idea, but we feel that putting someone's ashes into a dildo is taking things just that step too far.
Other weird sex toys
There are plenty of other weird sex toys out there. 3D printers mean that people are creating novelty items for all sorts of purposes. For example, you will have probably already seen the Donald Trump butt plug someone created in protest.
Are there certain things that these weird sex toys should not touch? Do you feel like cameras, 3D faces, and ashes are acceptable additions to these sex toys? Let us know by leaving a comment in the box below.
Latest posts by Lara Mills
(see all)