There were some things we believed about sex when we were younger, but as time has gone by, we've become educated. Our experiences and the information we've acquired have helped to show that the sex myths we believed are just that: myths.
However, sometimes these myths slip through the net. It might be that we assume everyone knows this information by now, so we haven't told them. It could even be that they have been given bad information. Either way, here are some of the worrying sex myths people still believe.
No symptoms? No STI
Most of us tend to play it safe with our sexual health. We'll keep a close eye on our genitals, just in case something suspicious crops up. After all, all STIs and STDs produce symptoms in those with them… right?
Wrong. A large number of STIs and STDs commonly don't show symptoms. Chlamydia, gonorrhoea, and herpes are just a few of them. There are some cases where people have displayed symptoms, but the chances are you won't know. This means that you should get checked regularly, just in case.
Two condoms are safer than one
Condoms aren't only great at preventing pregnancy, but they also form an effective barrier against STIs and STDs. They are a sex staple, and many safety-conscious people will use condoms when they have sex. Some even decide to go one further and use condoms at once for more protection.
That isn't how it works. You might think that doubling up on condoms is going to provide you with better protection, but it won't. In fact, the condoms are more likely to break. They'll create friction as they rub together, making this a very unsafe method of safe sex.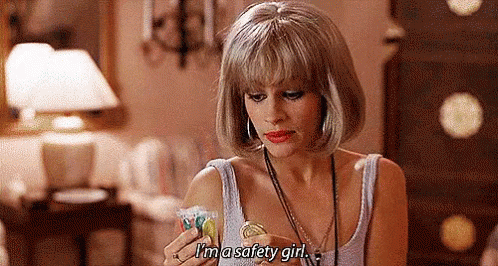 Size matters for pleasure!
This is perhaps one of the most infuriating to hear. People are constantly saying "size matters" in bed. There is this idea that the bigger the penis, the more pleasure you'll receive from sex. People are convinced that it is a big deal, and many people with penises find themselves worrying that their member just doesn't measure up.
When it comes to pleasure, size does not matter. The g-spot in the vagina sits only a few inches deep, so it can easily be stimulated with fingers or a small penis. The prostate in the asses of men also isn't too deep, so a bigger penis isn't going to make sex more pleasurable based on those factors alone. Some might like a big dick, but that is personal preference and has little to do with actual pleasure during sex.
Other worrying sex myths
There are plenty of sex myths out there, but the worrying thing is just how many people believe them. Just the other day I had a friend telling me that she was dreading restocking on condoms because she goes through so many using two at once. I had to explain to her that wearing two at once actually is worse than just the one.
Are there some other sex myths you think we need to bust? Let us know which sex myths you hear about the most in the comments below.
Latest posts by Lara Mills
(see all)