I hate Christmas shopping. The idea of forcing my way through the crowds on the street makes me angry, so I get my shopping done months in advance. That way I don't have to cope with the queues. All of the gifts I had to buy were already wrapped at home, nicely stacked under the tree. I'd even wrapped spare gifts in case I forgot anyone.
My house mate Georgia's method was very different. Where I was organised to avoid the city centre the week before Christmas, she didn't think about buying gifts until it was almost too late. She'd head into the city to spend more time waiting in queues than she spent looking for gifts. She also had a terrible habit of shopping for herself at Christmas, which is how we ended up in one of her favourite sex shops.
She'd found the display of new BDSM toys. "Gorgeous!" she'd declared, a wide grin on her face as she picked up the rose gold handcuffs with the chain connecting them.
"Don't you already have a set of handcuffs?" I asked, watching as she snapped them open.
"Not like these!" she said, the excitement in her voice obvious. She'd never hidden her interest in BDSM and openly talked about it with me. I didn't know much about the subject, except that it interested me, but up to this point in my life I'd never met someone I trusted enough to try it with.
I looked away from the display for a moment to see what else was in the store when the handcuffs were slapped on my wrists. I turned back to see Georgia clicking them into place, a smirk on her lips as she grabbed the chain connecting them. "Come on!" and she pulled me further into the shop.
People were staring as she lead me around the shop, making the blush on my cheeks only deepen. My eyes ended up settling onto her shapely ass. Her jeans clinged to her and I bit my lip to resist the urge to touch.
Georgia was gorgeous, and I'd had a crush on her since the moment I first met her. Her ebony skin was smooth, and she embraced the natural curls in her dark raven hair. She'd got curves in all of the right places, which I was envious of. I had always been lean and slim, my athletic body a result of the running I did, but she was something else. Being taken around the sex shop by her with handcuffs on my wrists made me wonder what it'd be like to submit to her.
"Having fun back there?" she asked, turning to look over her shoulder at me. She looked away so quickly that I didn't know whether she'd caught my eyes on her ass or not.
"They're a bit tight," I found myself saying, looking up at her face in time to see her turn back towards me.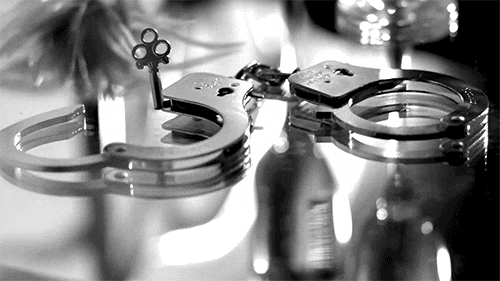 She stopped walking, unfastening the handcuffs and putting them over her arm. "Better?" she asked, looking at my wrists and giving them a brief touch. She was gentle, her fingers skimming over my wrists and travelling a little further up my arms before going back down again. The smirk was back on her face as she released me, but the rush her touch had given me meant that all I could do was nod in response to her question.
The rest of the shopping trip was uneventful, though Georgia continued to do what Georgia does best. She'd grab my hand to lead me through the crowds, or put her arm around me when we were in the taxi on the way home. She even gave me a long kiss on the cheek as she thanked me for helping her, the lingering kind that meant my hands slipped down my body in bed later that night.
My mind wandered as my hands went lower, imagining what it would be like with her hands on my breasts instead of my own. Over my clothes I squeezed them hard, my breathing turning heavy. My thumb and forefinger on each hand found my nipples, rolling them until they turned to points. I pinched them hard, biting down a gasp and allowing my left hand to drift lower. My fingers froze at the waistband of my panties as I heard Georgia moving around in her bedroom. It suddenly felt so wrong when she was only in the room next door and I released my grip on my own body, turning over and going to sleep frustrated.
Christmas Day arrived in no time at all, and after spending the day with my brother and his screaming younger kids, I was glad to be home again. I arrived to find Georgia had gotten home ahead of me, and she leapt to her feet when I walked in the door.
"Erin, you're back!" she shouted, sweeping me into a hug and knocking my bags to the floor in the process. "Leave me," she told me when I went to pick them up, instead dragging me into the front room. On each side of the sofa were two small piles of gifts. One for me and one for her from each other. We did this every year, saving our presents to each other until the evening.
She looked so excited that I couldn't help smiling at her, even though I was exhausted. "Let me take off my coat and then we can start," I said, slowly taking off my coat and scarf before hanging them up.
"Normally I love a slow strip but hurry up!" she demanded, hands already on one of her gifts, her fingers toying with the tape holding the ends down. "Five, four, three, two-"
"Alright, alright, I'm here," I said, sitting on the sofa beside the gifts with my name on them. "We can start."
The words were barely even out of my mouth before she'd started tearing the wrapping paper from her presents. She squealed in delight at each one, immediately spritzing herself with the new bottle of her favourite perfume and stuffing some of the luxury chocolates into her mouth.
I, on the other hand, was taking my time with each gift. After opening each I thanked her for it. The new mug, the books, the sweet smelling candles… everything was carefully stacked to one side while I opened the next gift.
I froze.
Inside of the box was blindfold. It felt as though it was made of silk, the blue so deep in colour that it was almost black. I lifted it up to find that it had been placed over the pair of handcuffs that we'd seen in the shop. The same ones Georgia had put on my wrists and taken me around the shop with.
The flurry of activity beside me had come to a sudden halt and the room felt very quiet. I stared at the blindfold in my hand and the handcuffs still in the box. I wanted to laugh at the joke present, but every time I tried to look at her I found my eyes going back to the handcuffs.
"Well?"
I attempted to swallow the lump in my throat and failed. "Well what?" I managed to reply.
The weight on the sofa shifted as Georgia scooted closer to me. "What do you think of them?" When she didn't get a response immediately, she started talking again. "Blue is your favourite colour, isn't it? I thought you might like to try them out."
"With who?" I was finally able to look up at her, seeing that she was now sitting right beside me.
She lifted one hand from her lap and placed it gently on my knee. Her thumb stroked, body turning more towards me. "Haven't I been obvious enough for you?"
There was no time to say anything else or even question what was happening as she leaned in. The perfume she'd liberally sprayed herself with moments before wafted over me, and my eyes drifted closed at the same time hers did.
Her lips were full and soft, with the hint of chocolate flavour upon them. I pressed my lips harder against hers, savouring the heat and taste of them before she pulled away again. The kiss only lasted a few seconds, but I was left feeling breathless. She was breathing heavier too, and she slowly got to her feet.
For a moment I worried that she might be walking away, and I went to stand up too. But she didn't. She reached down, grabbing the handcuffs and blindfold in one hand, taking a hold of my hand with the other. "Come on," she said, and we slowly walked through the house we rented together, heading towards my bedroom.
The door shut behind me and suddenly I was against it. Even through the t-shirt I was wearing, the cool mirror on the back of the door made my skin tingle. The cold was a shock to the system, but not as much as Georgia's hands as they slipped beneath my shirt and stroked at my back and sides. Her lips descended on my neck, her breath hot against my skin.
All I could do was press my hands against the mirror in an effort to keep myself on my feet as she began to gently suck at my skin. I groaned as her lips reached my collarbone, my eyes drifting closed, and I could feel the smirk appearing on her lips before she went back to teasing me.
Her hands slipped from my back down a little, caressing my ass briefly before she pulled away once more. I opened my eyes, a frustrated sigh leaving my lips as she continued to step away from me. She removed the handcuffs from the box, dropping them onto the bed, before she raised the blindfold. "Are you sure you want to do this?"
I nodded quickly.
She smiled. "If you want to stop, just say 'red', okay?" she asked, waiting for me to nod again before she curled one finger at me. "Come here, baby, and strip for me."
She stood right by the side of my bed, her eyes on me as I began to walk towards her. Although I wasn't experienced with BDSM, I wasn't totally innocent about sex. Every step I took meant that more and more of my skin was revealed to her, and I watched as her pupils grew larger. She made no effort to keep her gaze on my face, watching my body instead.
Soon I was in front of her in just my mismatched lingerie, the black panties and white bra suddenly uncomfortable against my skin. I wanted rid of them, but the moment I went to remove them her hands stopped me.
"Not yet," she said, turning towards the bed. "Lie down on your back."
I did as I was told, watching and biting my lip as she reached for the blindfold once more.
"What word should you use if you want me to stop?" she asked, hovering by the side of the bed.
"'Red'."
"What will happen if you use the word?"
"You'll stop."
The smirk was back on her lips. "Good." She moved closer, unfastening the blindfold and slipping it around my head. The material felt silky against my skin, blocking out my view of her. I was suddenly aware of how heavily I was breathing and the scent of her perfume seemed more intense than it did a moment before.
For a split second before she kissed me I felt her breath on my face. She kissed my lips once, soft and slow, before pressing her mouth harder against mine. As I responded her hands stroked at my skin, skimming across my stomach to my sides. Her tongue slipped into my mouth, running against mine as her hands slipped up my sides towards my tits.
Through the lacy material of my bra she squeezed, hands working roughly against my tits. We had only just started but I wanted more. My hands moved to the back of her head, pulling her in. My tongue pressed eagerly against hers and I moaned, her hands pulling the cups of my bra down to expose my hardened nipples to the cool air in the room.
The thumb of one hand passed over the rigid bud, my back arching off the bed at the contact. "Please," I found myself groaning as her mouth left mine. My hands reached for her, eager to touch her as she was touching me, but she wasn't there.
"Do you trust me?" she asked, her voice further away now.
I nodded my head, eyes open wide beneath the blindfold, even though I couldn't see anything.
I heard the chain of the handcuffs jangle. "Put your arms up above your head."
Without hesitation I did as instructed and waited, holding my breath as I did. I could feel her weight over me before the cold metal was around my wrists once more. They weren't as tight as last time, but as I tried to move my hands I found that she'd connected me to the metal frame of the headboard.
She kissed my cheek, her weight shifting on the bed. My earlobe was sucked into her mouth, and she bit down on it hard enough to make me gasp. "Just relax," she whispered, voice husky in my ear as she went back to kissing my neck.
Her mouth felt hot against my neck, the sound of her soft slurps making me shudder. Her hands were right back on my breasts, pinching at the nipples much like I had while I'd been thinking about her. Her lips pressed further down my body, tongue trailing along my collarbone before she pressed her face in the valley of my tits.
"Gorgeous," she whispered against me, kissing her way across to one nipple. Her lips pressed careful and slow kisses right around it, getting steadily closer each time. She did this for a long time, my breathing getting heavier and heavier with each move she made.
Suddenly she pressed her mouth right around the nipple, her teeth grazing the bud. Once more my back arched up, pressing myself harder against her mouth. My fingers grasped at the headboard as best they could, my movement restricted by the handcuffs. They clanged against the headboard and I felt Georgia chuckle against my chest.
"You want more, do you?" she asked, the hand which had been stroking at the other nipple sliding down my stomach and coming to a stop between my legs. "Fuck, you're soaking," she groaned, her digits running up and down my wet panties.
I wriggled my hips against her hand, eager for more contact, and she removed her hand. "Oh no, baby. I'm in charge, got it?"
The loss of her touch on my body had me nodding frantically. "Got it," I managed to stutter out, moaning when she went right back to touching my body.
For a few more moments she teasingly ran her fingers up and down my clothed slit. Her other hand squeezed my nipple, her tongue lapping hungrily at the other. I tried to stay as still as I could, but each breath was coming out as a moan.
Her fingers paused, a whimper leaving my lips, before she pulled my panties to one side. Without any hesitation she stroked at my bare skin, my hips jerking at the contact. Her finger tips ran gently along the length of my pussy lips, my juices coating her digits. Slowly she dipped the tip of one finger into my cunt, pulling back when I tried to move once more.
"What did I tell you?" she demanded, her finger coming to rest on my sensitive clit.
"You're in charge," I moaned, my body tensing as she ran the finger slowly around my delicate nub.
She laughed. "Yes, I am." She moved her lips away from my breasts, blowing cool air onto them. "Spread your legs."
My legs opened for her and I felt her settle between them. The finger moved from my clit to my opening, and she breathed onto my wet body. A shiver of anticipation ran over my skin and I bit my lip as she finally slid her finger inside of me.
She buried it all the way in me, kissing at the top of my thigh. The finger was pulled out before she slammed it back into me. With a gasp I released the firm grip I had on my lip. I couldn't move in the way that I usually did, and having that control taken away from me only turned me on more. All I could do was lie there and moan.
Her finger fucked me hard, soaking her hand and the bed with my juices. For a moment she paused before adding another finger. She curled them inside of me, pressing the digits hard against the spongey area at the front of my pussy. My g-spot seemed to be finely tuned to her touch, my body starting to writhe on the bed. I couldn't stop myself, but she didn't seem to mind too much as she pressed her mouth to my sensitive bud.
With her fingers buried inside of me and fucking me hard, her lips wrapped around my clit. She lapped at it, the jerk of my hips making her stop. She swapped the licking for sucking, and I could hear her tasting my juices.
She groaned, sucking a little harder and pressing her fingers more firmly against my cunt. Her fingers rocked against my g-spot, mouth firm against my body, and I could feel myself tightening around her. On either side of her head my legs were tense, and my hands were pulling hard enough against the handcuffs that my wrists stung. But I couldn't stop, and I certainly didn't want Georgia to.
She didn't. As my moans got louder and louder she continued, no longer pulling away from me as my body demanded more. My orgasm was a sudden explosion of pleasure and I screamed, bucking against her fingers and mouth. Nothing in my fantasies had ever felt this good, and I doubted it would again.
Georgia kept going, riding out my orgasm until I was whimpering. My body felt too sensitive once the orgasm was over, and I sighed as she pulled her fingers from inside of me and removed her mouth.
"Breathe," she told me, her voice now beside my head. I realised that I was gasping for air, that I'd been holding my breath through my orgasm, and took long, slow breaths in. "Good," she said, and the handcuffs clicked open.
The moment that they did I reached for the blindfold, slipping it off of my eyes. She was hovering right above me, and I could see the glistening juices she'd buried her face in on her lips. "Merry Christmas," she said, leaning in and kissing me.
I could taste myself on her tongue, and if it wasn't for how out of breath I felt, I might have kissed her harder.
She ended the kiss, a smile on her lips. "How was that for an introduction?" she asked, wrapping her arms around my body and pulling me close to her.
"That was amazing," I breathed, looking into her gorgeous hazel eyes. "But what about you?"
The smile turning into a smirk was the only answer I needed.
Latest posts by Lara Mills
(see all)