Every time Halloween comes around we are left wondering which costume will be the epic one thing year. We want to see the costumes everyone is talking about, and given its recent success, we imagine there will plenty of IT's Pennywise wandering the streets.
Finding the perfect outfit can be a real struggle, especially if you don't particularly feel like dressing up. Maybe you are seeking a costume with a difference? Perhaps you are eager to surprise your partner with something different?
If so, then we have found the perfect costumes for you! Instead of dressing yourself up, why not dress up your cock? That's right, people are making and creating cock costumes for Halloween. No, we aren't kidding. Yes, there are pictures. Read on to see just what kind of cock costumes people are creating.
Camsoda
Camsoda is a popular webcam platform that has had some interesting ideas throughout the years, and their knitted cock costumes are just the latest. Known as Penis Puppets, they are encouraging people to cover their dick in a lovely knitted outfit… complete with a pouch for your balls!
They each cost $19.99 (currently on sale) and you can buy a variety of different styles. On their site they have unusual designs, such as the watermelon (known as "water member"). They also have a whole host of animals from snakes ("snocky") to sharks ("shark-a-shlong").
But perhaps the best for Halloween will be the vampire ("Count Dickula"), which comes complete with pointy vampire teeth. It will make anybody stop and look again… and it will certainly be shocking enough for your partner on Halloween!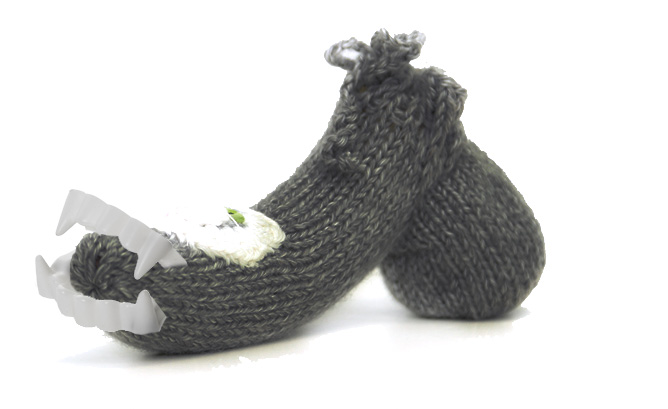 DIY cock costumes
If you'd rather not spend your money on something like that, you could always make your own cock costumes. People have been getting very creative with their penises, eager to get into the spirit of Halloween and dress up in an unusual way.
Pretty much everything you can think of has been made into cock costumes. If you want to make yours a pirate, you can. However, if you'd rather go for a simple cock costume, why not go for a ghost? All you'd need is a tissue to cover it.
There are some strange costumes out there. Most people like to keep it simple, with a ghost or a snake, while others will dress their cocks up to look like a creepy doll. Why? We're not quite sure.
Make your cock part of the costume
For those not quite eager to make their cock centre stage when dressing up, there are a number of different costumes you can try which makes your penis a part of it. For example, there are numerous skeleton costumes with a little something extra.
However, one of the most popular ones is the snake charmer costume. It looks simple enough, but the snake hanging out of your pants will certain make it a talking point!
The only problems with this is just how many people are going to try to tug on your snake, and whether you are brave enough to slip your dick inside. So if you aren't ready to have one of the cock costumes listed above, this might be a great alternative.
Will cock costumes catch on?
While these costumes seem like a great idea for making your partner laugh, I'm having a hard time thinking of them as serious Halloween costumes to wear. If you want to make your partner cry with laughter then these are the costumes for you. If not, maybe stick to a standard outfit.
What are your thoughts on cock costumes? Do you believe that they will catch on, or are they something best avoided?
Tell us what you think about them by leaving a comment in the box below. Would you try a cock costume?
Latest posts by Lara Mills
(see all)