Aside from the many women that'll dress up in black clothes with tiny red devil horns, or Harley Quinn this year, there are still a numerous amount of girls that dress up as the sluttiest vampire for one night on Halloween. However, wearing a tight black dress, fishnet tights, cheap red lipstick for blood and talcum powder isn't exactly original anymore; if so many women dress up as the same-looking bloodsucker, they'd be better off partying in a polygamist's house than a coven.
Think about it, there is a reason why a lot of guys get hot and horny over iconic vampiric characters from your monitors, like Jessica Hamby and Ingrid Pitt. If you haven't figured it out already, all of those kinds of vampires are dressed to kill. And thrill. And lick. And suck. And fuck. So, if you want to impress your high-school crush, or your colleague that works in the Human Resources department at your borderline alcoholic BBF's Halloween party this year, you might want to consider dressing up as one of these hot vampires.
#1. How to look like: Drusilla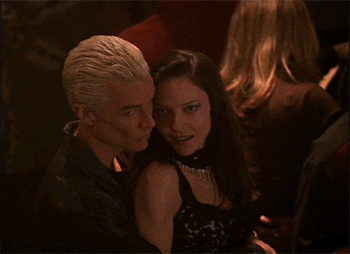 Despite the Scary Spice look that she puts on in the crazy little town of Sunnydale, Drusilla, Spike's ex-girlfriend from 'Buffy the Vampire Slayer', knows how to pull off the Gothic-Victorian style that she has been seen in the series. It's not mandatory for you to have the Kate Moss-esque body to be Drusilla for one night, but you do need to get your wardrobe sorted if your crush is into vampires with a strange American/English accent:
• A long vintage dress or something from your mum's attic
• Crimson lipgloss
• Long brunette wig (if you don't already have long brunette hair)
• French lingerie, preferably plum-purple with laces and frills
• A lace choker with fake diamonds
#2. How to look like: Santanico Pandemonium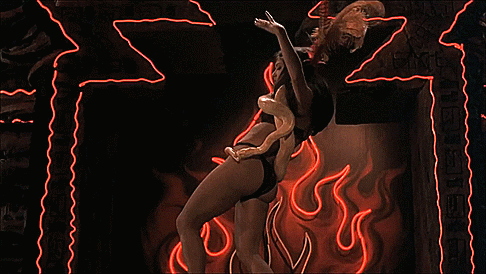 I think Salma Hayek's scene in 'Dusk till Dawn' was what made a lot of men pay more attention to her acting skills…Anyway, to look, act, and feel like Salma Hayek's vampire character, Santanico Pandemonium, you have to be in a place where you're able to show off your cleavage, stomach, legs, and feet. Especially your feet. In order to look like Pandemonium when she still has her pretty face on, here are the things that you will need to wear:
• Victoria Secret's Red Lace Push-Up Bra and thong
• Fake peacock feathers
• A wooden crown
• Jimmy Choo red stilettos
• Any red lipstick that has been manufactured by M.A.C
#3. How to look like: Selene
If you go and look at a number of listicles about the hottest female vampires, you wouldn't be able to find one that doesn't have Selene from 'Underworld' on their lists. And what's not to love about Selene? She's hot, she kicks ass, she's always dressed in black latex and a trenchcoat, she knows how to make love to a man from another species, and she looks like a Goth Army Brat. For those that are wondering how to pull off the look that she has in the franchise, make sure you got these things lying around in the house.
• A black catsuit that looks a little bit like wet leather
• A leather corset with buckles
• A short black wig (if you don't already have short black hair
• Doc Marten Boots
• Pale Blue Contact lenses to woo your crush with
#4. How to look like: Sophie-Anne Leclerq
Jesus Christ, every time I watch an episode of 'True Blood', I never know whether I should feel aroused or petrified. There are a lot of blood-thirsty, mentally-deranged vampires in this freaky series, but none have caught my attention more than Sophie-Anne Leclerq, who is played by one of my most favourite actresses ever, Evan Rachel Wood. Her sophisticated dynasty attire, pragmatic attitude, and her slender body were what made some of the viewers want to masturbate to her while she's sucking the blood out of someone on their monitors. If you're thinking about seducing a guy by looking like the short-lived Vampire (spoiler if you haven't caught up with the series in a while), here is what you'll need:
• Anything of your elegant office clothes that are white, beige, or creamy
• Any kind of jewellery as long as it has pearls
• Max Factor Red Lipstick
• Blood splatters on your elegant office clothes
• A Push-Up Bra and French-laced briefs of any kind
#5. How to look like: Akasha
It's safe to say that Akasha from 'Queen of the Damned' is the Lady Gaga of the vampire world. It's not a well-known film, but 'Queen of the Damned' does add in some references to 'An Interview with a Vampire'. And if you haven't watched it yet, then you should, because there's a really hot bath sex scene where Stuart Townsend and Aaliyah get it on in a tub of roses. Anyway, by dressing up as Akasha, you would find yourself surrounded by a bunch of guys and girls that are into Egyptian girls, as long as you're wearing these things at your designated Halloween party:
• Your old Xena costume
• A couple of teal and mauve colour blankets from Zara
• Urban Decay eye shadow set
• A shiny maxi skirt
• A friend that knows how to do Ancient Egyptian makeup
Oh, and you should go commando if you're going to dress up as Akasha; no one wore underwear in Ancient Egypt.
Latest posts by Zoe Jaspers
(see all)