The best thing about sex is that we all like different things. This gives us the chance to try out something new with our partner, to explore something we never thought we might explore before. It is fun and flirty… except when kink shaming gets thrown into the mix.
Kink shaming, to put it simply, sucks. If you have ever been kink shamed then you'll know how lousy it can make you feel. When someone kink shames, they react to your kink in a way that makes you feel ashamed. It is often made worse by the fact that we can't control the things that turn us on. So why do people do it?
What is kink shaming
I've already said what it is in simple terms, but I haven't gone into details about just how subtle it can be. When someone kink shames you, it doesn't have to be something as dramatic as "ew, why would you be into that?". Often it is subtle, and it can even be a small frown at the mention of your kink, or a look of disgust.
If you have opened up to someone and shared what turns you on, shaming can be a small thing. They might say "why?" in a way that makes you feel uncomfortable. However, it is worth noting that sometimes, your partner doesn't even realise that they are doing it. They might be asking "why?" because they are genuinely curious, but it makes you feel like they don't want to understand it.
Then again, it can also go to extremes. You might have worked up the courage to tell your partner that you'd like to try pegging. You want to put them in control and take a strap-on up the ass. Their response might be an outright "no" or, a common response to this kink, "isn't that gay?". A lot of people think anal play of any kind is 'gay', when really it is incredibly pleasure because it stimulates the man's prostate.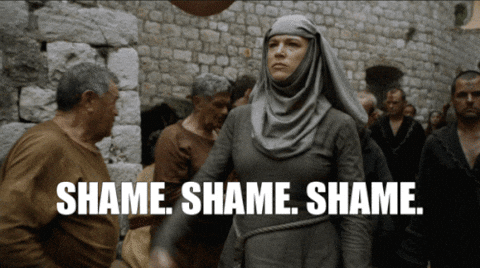 Why people do it
Often the reason for kink shaming is simply a lack of understanding. People tend to have their own ideas about kinks, and so instead of finding out more about it, they react instantly with rejection. For anyone into pain play, it is assumed that they are damaged on a psychological level, when really they might just love the rush that pain gives them.
A lot of the time it is accidental. For example, if your partner asks "why?" in a tone that suggests that they don't approve. They might not mean it, as they are wanting to know what it is about that kink that turns you on so much. The issue is that they haven't really worded it in the best way, and that makes you feel a bit shit.
It could also be that they don't like the idea of the kink, and they are so firm in their views on it that they want to ensure you know that it isn't a possibility. It's not a great way of doing things, but it makes their view clear. The only issue is how it makes us feel as a result.
Why does it bother us?
We can't help the kinky things that we are into, so when we experience kink shame, it makes us feel awful. If we could help our interests, I'm sure most of us would opt for things to try with our partners. But we can't, so it feels like we are being rejected in a big way.
It also makes us less likely to share things in the future. When I tried to explore the world of kink with my ex, I was shot down immediately. Even asking "what turns you on?" got a response of "that's gross". As a result I didn't share any kinks with him. I kept it all to myself.
If you are in a relationship this can be very damaging. Think about it. You have just rejected your partner in a way that makes them feel bad about themselves. Why would they then try to share more things with you? They won't, instead closing themselves off.
How do you stop kink shame?
Because a lot of people don't realise that they have kink shamed you, the best way to address it is to point it out. Explain to your partner how their response has made you feel, and often they'll realise that they could have reacted better. If you don't challenge it, however, it might continue.
Have you ever experienced kink shame? What was your response to it, and were you able to get through it with that partner? Let us know all about it by leaving a comment in the box below. You can even share your advice to tackle it, and why you think people do it.
Latest posts by Lara Mills
(see all)