Sex positions have kinksters twisting like human pretzels to achieve erotic angles and dimensions. While nearly all sex positions are enjoyable for both genders, some angles are better suited for her pleasure while others are geared more so for the enjoyment of dude. Kinky homies are playing naked twister to experience maximum enjoyment because erotic positions raise that sexy spirit's sail.
In a video game, the point of a level is to master it, so you can graduate to the next level. Sex positions work in a similar way, because once you've mastered missionary style, you switch it up to angled missionary because you've banged onto the next level. The real payoff of these maneuvers is connecting and exploring sex in different ways, which is in essence the spicy sauce of a sexy life.
Explore these positions herein that men love most and see if they aren't already banging in your kinky repertoire. If not, then consider introducing these moves next time you're playing the field. These sex positions heighten pleasure and prove that there's more than one angle to enjoy the horizontal refreshment.
1. Woman on Top a.k.a. Cowgirl
Woman on top is one of the sexiest positions shagging because dude gets to relax and watch that goddess divine grind her way to pleasure town. The angle allows him to look at all her curves and dimensions, while allowing her the advantage to take charge and ride that stallion into the pasture. Dudes love this position because he can lie back and experience that sexy seductress take control.
2. The Valedictorian
Valedictorian has dude on top and when she puts her ankle up on his shoulders, her legs are in the shape of a V. If and when she grabs her ankles, then she's now in the shape of V for va-jay-jay, V for victory, V for vroom vroom. This position will allow there to be plenty of eye contact, and that V angle will grants VIP access for deep penetration and visitation rights to her vulva.
3. Missionary a.k.a. The Matrimonial, Male Dominant
Missionary is probably the most common position shagging, and men love it most because it allows him complete control of penetration, and of the speed of the motion in her ocean. It's super intimate with lots of face time, and it lets dude feel super in control as he plows that sexy fallen angel's mound. If dude raises her left leg so her knee is level with his right shoulder while keeping her other leg flat on the bed, then he achieves an alignment that forces tighter penetration, and more clitoral pressure.
4. The Pretzel a.k.a. The Pretzel Dip, The Camel Ride
The Pretzel has the dude kneeling while that beautiful honey pot is lying on her left side. By raising her sweet, sexy legs and delicately opening them, dude can enter the holy land to penetrate and pound the punani pavement. This sex position has the deep penetration of doggy-style which dudes love most, and it also allows that dame to lie back, and watch that Gladiator ravage her Colosseum.
5. Reverse Cowgirl a.k.a. Rodeo Drive, Half Way Around the World
Reverse Cowgirl has dude relaxing and getting a most epic view of her beautiful backside. He lies back with his legs outstretched, and she climbs on top, straddling his hips, inserting his salty wand and facing his feet. Kneeling she lowers herself onto the cock, and that up and down motion she unleashes is sensational for him. The greater skill she has at changing the angle of his noodle's entry, the greater the stimulation it is for both parties!
6. The Butterfly
In the Butterfly position, she lies on her back with her ass hanging off the side of the bed, and he enters from a standing or kneeling position. This is pretty much man on top, dude is standing and hammering his mission statement directly into her oval office. When she puts both of her legs upon his shoulders, she angles her hips and locks him into place, letting him take her for a sexy spin around the block.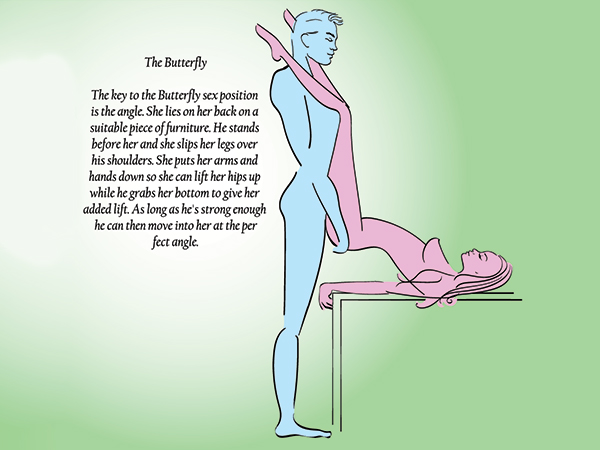 7. Doggy-style a.k.a. Man's Best Friend
Doggy-style has dude entering her from behind. It provides him with the capacity to thrust so deep that the tip of his wang can touch her cervix, stimulating her internal pleasure zone. Men love man's best friend for the erotic view, the deep penetration, and because he gets to go to town on that cave of wonders.
8. The Lotus
In the Lotus position, dude should sit down on his rump with his legs crossed and pulled in like the traditional Lotus yoga pose. Then she crouches on his crotch, inserting that flagpole into her private chambers. She holds onto his frame as he wraps his arms around her sexy body, allowing her to grind and rock her pleasure button until she fine tunes it to an orgasmic frequency. This intimate position is ideal for slow cooker sex, and if crossing the legs is uncomfortable, dude can also lie them straight.
9. Standing-up

In standing-up, she faces the wall which could theoretically be a tree, and she sticks that booty out. That's when dude mounts up, and majestically enters the wet and wild slip and slide of her pootang. When she slightly bends her knees, it grants easier access to her Netherland regions. Men love this position most because it works, and it's a whole lot easier than doing it face to face. Plus, she can thrust backwards using the wall, or that theoretical tree.
10. Spooning a.k.a The Sleeper Hold
Spooning is a super comfortable position, because your bodies are meshed up against one another. Dude lies behind her, and she slightly bends her knees, arching her rear back toward him for easier access to her glory hole. Have her bend, and lift her top leg to her breasts, then dude can adjust his position, and give her the sensation of greater width. Dudes love this position most because it's ideal for long sessions in the sack that lead to sweet dreams.
11. The Lap Dance a.k.a. Face off
While he sits, she shows off, and it's one of the oldest tricks in the book. It works because it's a great way to relax and take a good look at the goodies. With her stripping, flirting, and shaking what her mama gave, dude gets to sit back and enjoy the show. When she mounts him sitting, climbing on top of him and sitting soundly on his saddle, she can ride him into the sunset. Dude should grab her ass, lifting and bouncing its cheeks to take that pony ride from a trot to a gallop.
12. Atomic Dog a.k.a The Power Play, Standing Position
The Atomic Dog has her on all fours with her fine ass hanging off the edge off the bed, but dude does not enter heaven's gates like in Doggy style. Oh no, he stands because it's hammer time! Men love that she's at the perfect level, height, and angle for him to punch his time card. While standing, dude has access to the reservoir of power and strength that his legs provide him with, and he's able to give her his fullest thrust. Plus this position primes her internal G-Spot for his consideration.
13. Kitchen Confidential a.k.a. Iron Chef
If you're hungry for a change of scenes, then Kitchen Confidential is a tasty recipe, and it'll raise the temperature of your kink like hot sauce. As she sits on the counter with her legs raised and wrapped around dude's butt or thighs, he bangs her kinky kitchen until he's had his fill in this appetizing standing-to-seated position.
14. Waterfall a.k.a. Head Rush
Dude lies on a bed, and lets the upper half of his body drop off the edge as that sexy women straddles him, rocking the casbah. This position causes blood to rush to his other other head, and both heads will experience a tremendous waterfall of mind-blowing sensations.
Marvel and revel in all the numerous positions that you can celebrate that kinky party. Enjoy exploring all the possible ways you can experience sex because you don't have to take it lying down! Know that the more athletic and creative you are, the more likely you are able to shag that mission possible. Keep calm, stay kinky and learn more sex positions for him by watching Sex Positions that Make Him Last Longer.
Latest posts by Gabriella Zene
(see all)