For as long as there has been vehicles, kinksters have been going balls deep on a more exotic ride. When it comes to shagging in that wagon, the lack of space, and its limited dimensions have got car sex enthusiasts pre-game stretching because you've got to be flexible and creative. Rocking and rolling inside of a car is a rite of passage because cum and go sex is just like fast-food for those with a kinkaliscious appetite.
It bears mentioning, as much as you have the right to sexpress yourself, if you're caught tapping that ass inside of a car in a public parking lot, or on a popular street, you could be penalized by the law. What turns you on may in fact be turning that police officer's head your way, so take a drive before you get down to sexy business. Let the drive lead you to a discreet turn-off that may have view, or it may not, the sexy point is, wherever you are, you two have ultimately arrived at 'Look-out Point.'
Let the inventiveness of the auto industry inspire you to upgrade your sex machine's performance with these tips. That way, the next time you rev your kinky engine inside of an automobile, you'll maximize your sexy RPM. After pulling off onto that discreet 'Look-out Point', use these herein car sex positions to take that erotic road trip to pleasure town.
The Tailgate
Vehicle: '67 Chevy El Camino
Soundtrack: Def Leopard "Pour some Sugar on Me."
With a flat bed in that car, you can rock out in maximum comfort. When it comes to sexy game time, she can ride, he can ride and there's room to switch up the game plan. It seems as though that's what the inventors had in mind when they named it a pick-up truck.
Standard Missionary
Vehicle: '11 Nissan Altima
Soundtrack: Billy Ocean "Get Outta My Dreams, Get Into My Car"
Hitting a home run in a standard size car may seem like some sort of Mission Impossible. Yet if Tom Cruise taught us anything in those M.I. movies it's that, that mission was always possible man! Rock that sexy mission to the back seat, and with her lying on her back, dude can insert his joystick into her game console and play that kink onto the next level!
The Squat Thrust
Vehicle: '10 Jetta Sportwagen
Soundtrack: Beatles "Ticket to Ride"
The Squat Thrust allows that woman to grind her gears while dude sits back and enjoys the view and the ride. It's a sexy position that's a mash-up between standard missionary and the lap dance. This position is a great work out on her legs, proving that sex in a car is all about a ticket to ride.
Side Saddle
Vehicle: '93 Buick Roadmaster Estate
Soundtrack: War "Low Rider."
The Side Saddle is the most practical sexual position when it comes to come and go sex in a car. Dude sits forward and she sits down on his lap sideways, placing his tent pole into her base camp. This position allows her the option to stretch out her legs across the back seat of the car, and its a ideal position to rock into if and when she has a leg cramp from squat thrusting the wang doodle.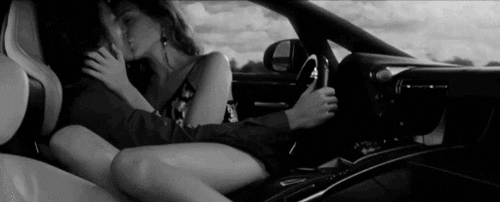 Over-the-Console Oral
Vehicle: Any car
Soundtrack: Gary Numan "Cars"
A blow job behind the wheel of a parked car can pose a serious risk if and when your car is rear ended. True story, a secretary in China bit off her boss's cock after his car was rear ended while she was giving him a blow job. Love is a battlefield, so if and when you enjoy some Over-the-Console Oral, then for the love of the cock, park that car where there's the least possibility to be rear ended.
Learn from other kinkster's mistakes by reading 11 Sex Related Injuries!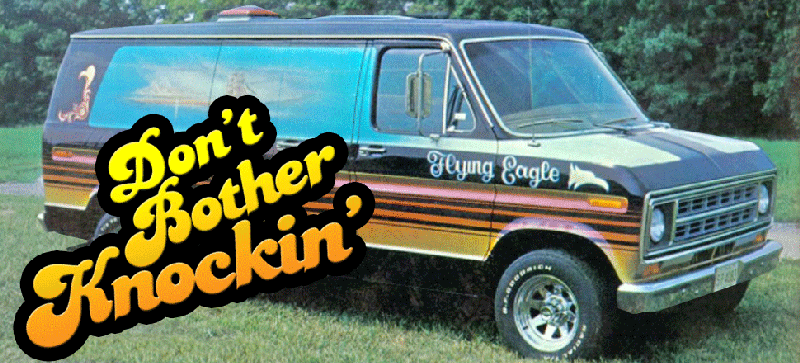 The Love Seat
Vehicle: '10 Honda Element
Soundtrack: The Clash "Brand New Cadillac"
The love seat is just 'reverse cowgirl' which provides a most excellent view of the junk in her trunk. Dude is advised to sit back, and let her take his cock for a spin around the block. He can explore her sexy bits with his curious hands while she rocks back and forth and back and forth.
The Leg up
Vehicle: '10 Cadillac STC
Soundtrack: The Cars "Drive"
The Leg Up is a sexy position thats essentially about getting in where you fit in. During that kinky session, there may be legs in the air, or hanging out the window because unless you have a drop-top, space in car sex is limited. When it comes to banging in a car, it's most important to have a sense of humor and enjoy the ride.
The Lap Dance
Vehicle: '01 Honda Accord
Soundtrack: Wilson Pickett "Mustang Sally"
This sexy move is as old as time; she shakes what her mama gave her until dude gets a hard on. Then she mounts up, riding him into the kinky sunset, or she can rock a reverse cowgirl position. Whatever she chooses to do, that sexy vixen is in full control of dude's cock and the entire erotic circumstance.
Doggy-style
Vehicle: '13 Lincoln MKZ
Soundtrack: Tom Cochrane "Life is a Highway"
This classic position has her on all fours, or at least leaning over onto the window as he lays that pipe. Like a gentlemen should, dude can open the back door of the car letting her kneel in that back seat. With her beautiful ass hanging out the door, he can go to town on her snatch while standing.
When it comes to shaboinking in the car, making the most of that horizontal refreshment is key. Learn more about how to tap that ass in an automobile by watching tips on How To Have Sex In A Car. The sexual positions that bang best in that sardine box are described perfectly in Car Sex Positions. Is there something that grinds your gears when it comes to knocking boots inside a car? Then keep calm, stay kinky and sound off in the comments below!
Latest posts by Gabriella Zene
(see all)