That time of the month. On the rag. Shark week. Aunt Flo. Monsoon season. The red wave. Periods have many different names, because calling it a period is too much for some people. We make jokes about it such "don't trust anything that bleeds for five days and doesn't die". It's bloody, and yet some find the idea of period sex very appealing.
I'm one of them. Periods are, unfortunately, a steady part of my life. I wish that they weren't, but they are. They are painful and they are expensive. Some things that can really help to relieve the pain are orgasms and sex. So what is it really like to have period sex?
What are periods?
Most womb owners have periods. Yes, periods. Not 'the rag' or anything else. Let's just call it what it is. The length of the periods, as well as the heaviness of the flow, varies from person to person. For a lot of people, it isn't a pleasant experience. You'll experience pain and generally feel uncomfortable during the process. So what happens during a period?
The lining of your uterus gets thicker in anticipation of a fertile egg. When one doesn't appear by a certain point in your cycle, your body will shed the lining to replace it with new for the next cycle. This leads to painful cramping as you body tries to actively shed the old lining.
This is what a period is. It is the old lining, and can vary in colour. It can also vary in the amount produced. Some might always experience heavy periods, while others may have lighter ones. Many periods last between 4 and 7 days, though some might experience longer or shorter flows. However, it isn't like a tide of blood coming from between the legs, as some seem to believe that it is.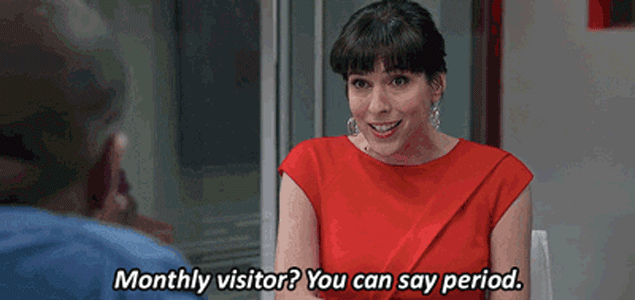 Why period sex helps
Periods aren't a pleasant time for many reasons. Leading up to it, you might feel bloated. You may get more spots and feel a little irritable. Your hair gets greasier and your breasts can feel very tender to the touch. You'll also experience cramping, which can range from mild to extremely painful.
Believe it or not, period sex can help with the pain. Orgasms are a natural painkiller, and so those painful cramps can actually be helped by giving your partner an orgasm. The contractions caused by an orgasm can help your body to shed the lining of the uterus faster, meaning a shorter period in some cases.
Sex makes us feel good, and many find that they are hornier than ever on their period. Our mood changes, and so even though we are dealing with our period, our desire for sex increases. We want it now and we want it better than ever!
What is period sex really like?
I'll admit that, when I was younger, I thought the idea of having sex on your period was gross. However, my body had other ideas. My desire for sex goes through the roof, making me want it more and more. Many of the early partners in my sexual history weren't interested in it, but I was lucky enough to meet someone who didn't care if I was on my period.
I was nervous about it. I worried that they might find the blood a turn off, or that it might be unpleasant for me. The closer I got to the moment though, the more I wanted it. My partner was just as eager and took his time with foreplay, getting me really worked up. By the time we were ready to have sex, I'd pretty much forgotten that I was on my period.
We didn't need to use lube, as the foreplay and my period meant that penetration would be no problem. My partner wasn't at all bothered by the blood, acting no differently to me as we fucked. It was, and remains to this day, some of the best sex I've ever had. I could really let go and it was amazing!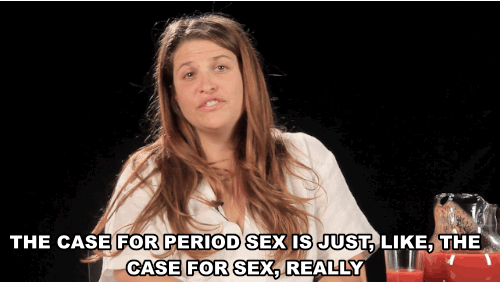 If you have concerns…
If you're reading this, it is because you are curious. Either you are looking for the gory details of what period sex is really like or you are eager to try it for yourself. However, you likely have some concerns. You might be worried about staining your bed with the blood, or about getting grossed out and turned off.
There are many steps you can take to make it better. You might want to put some towels down if you are concerned about your bedding. If you are really worried about staining, have sex in the shower. You won't notice the blood the same and it'll feel great!
But really, we should be having more period sex. It is great for cramps and feels amazing! It's a natural part of life, so why should you stop having sex because of it?
Latest posts by Lara Mills
(see all)