December is upon us, which means that every single store is reminding us of the fact that Santa Clause is coming to town. For those eager to celebrate or even those hoping to get into the spirit of things, it can be difficult to find a different way of counting down to Christmas.
A fun way to do it is to try some Christmas sex positions. There are a few you can try in the run up to the holidays, and we have five of the best for you right here!
1. Jingle balls
Most of the time, when we think of Christmas sex positions, we'll find ourselves focusing on full penetrative sex positions. We won't really think about oral sex positions we can try, which is why I've included the 'jingle balls' position.
If your partner loves giving head, this is the position for you. Simply sit down on a chair or on the edge of the bed with your legs spread. Your partner can then kneel between your legs. It gives them great access to your cock!
Because they will be comfortably kneeling and not using their hands to hold themselves up in any way, they can use their hands to play with your balls. It'll be incredibly thrilling to watch, and you can even scoot closer to the edge so that they have better access.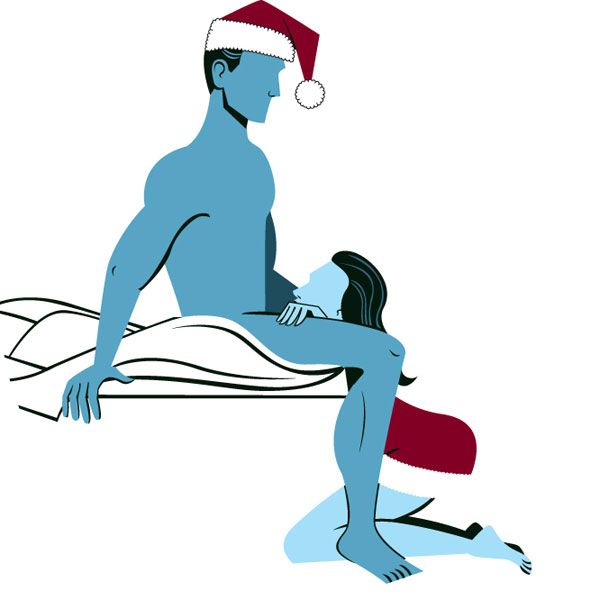 2. The sleigh ride
Thrusting is one of the most popular methods for sex, but it isn't the only one. Often, grinding can get both you and your partner to orgasm… if you can find the right position. So why not try this one?
The sleigh ride requires your partner to get on top of you, straddling your cock and facing away from you. It's the reverse cowgirl position, which feels fantastic, and your partner can grind on your dick instead of bouncing up and down.
The change in stimulation will make it far more erotic and intimate for you both. It will be even better if she leans forward a little, as then her clit can rub on your balls with each move.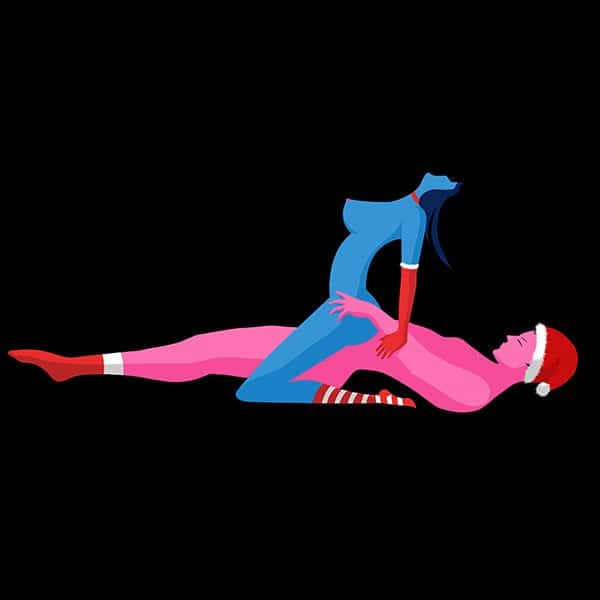 3. One-horse open sleigh
If your partner has a nice ass you want to admire, or you simply love doggy style, the 'one-horse open sleigh' position is the perfect one for you to try when you get a little fed up of Christmas carols playing in every store.
You'll need to find a surface that is at the same height as your cock. Then your partner will lie down on their front, with their legs hanging over the edge. As they spread their legs, you can slip between them and start to fuck.
Not only will it look great for you, but you can also make the position more intense if she locks her legs around your back. You can adjust the angle a little by lifting her hips, which can lead to one hell of an orgasm for her!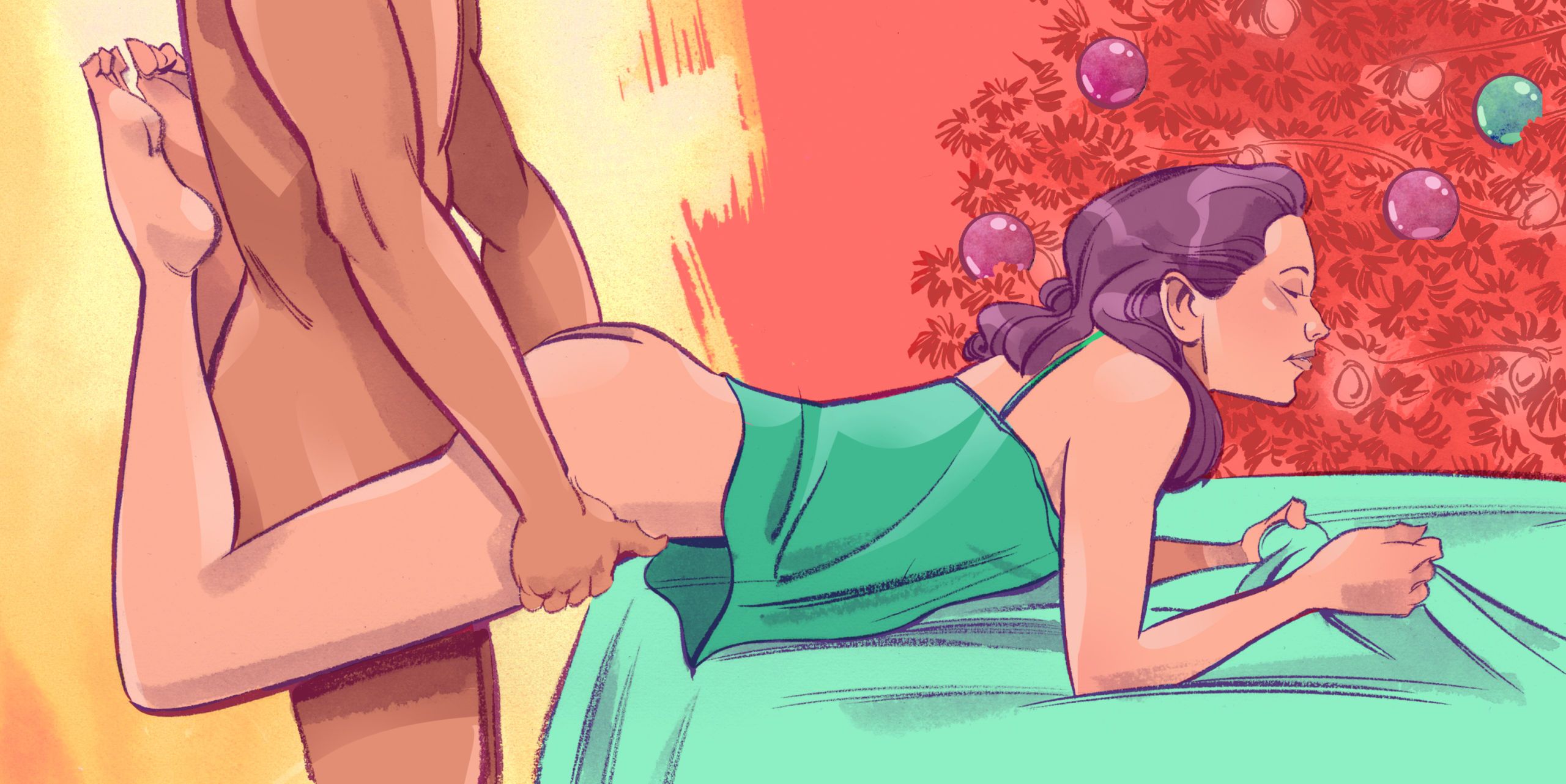 4. The mistletoe move
Something you'll see everywhere in December is mistletoe. It gives you and your partner the perfect excuse to smooch… but how do you use this for some Christmas sex positions? The answer is right here.
'The mistletoe move' might be a bit of a challenge to get into, but you'll find that it is worth it. You can start by standing up with your partner and kissing them. When the time is right and you cannot resist any more, you should bring one of their legs up and around your waist. It can help to have a wall nearby to provide extra support.
This can be difficult if you and your partner are drastically different heights, but it will allow for intimate sex as you can kiss each other while slowly moving together. What could be better?
5. The stocking stuffer
If you have the upper body strength and feel like trying something really great, then there are plenty of Christmas sex positions that allow you to stand. However, few will allow the kind of deep penetration and kinky thrill that 'the stocking stuffer' does.
You might need to be near a surface, just in case. A mantle is the preferred one, but any will do. You'll lift your partner so that they can wrap their legs around your waist and you can slide your cock deep inside of them.
This position makes for incredibly deep thrusting and will feel really kinky. It's also an intense workout for you both, so if you don't feel up to it, you can simply use this as one position to try before moving on to another. You can even carry your partner over to the bed and throw them down for a hot night of sex.
Have yourself a kinky little Christmas
Whether you have been counting down the days until Christmas since the last Christmas was over or you are a bit of a Scrooge and would rather forget the day existed, you're sure to be feeling a little festive with these Christmas sex positions!
Which position is your favourite? Is there one that you are certain will put you in a jolly mood? Tell us your favourite by leaving a comment in the box below!
Lara Mills is a writer who has four years of sex industry expertise behind her. Since she entered the adult industry, she has worked on the Escort Advertising forums, before moving into her current role three years ago.

Since then she has gained a fine reputation with her blogs on sex advice, sexual health and amusing news stories from around the globe. She is also a campaigner for the rights of sex workers from all over the world.

In her spare time, Lara keeps herself active by going running, and is something of a film buff. She also loves to go travelling.
Latest posts by Lara Mills (see all)