One of the hottest things for couples to try in the bedroom is role play. Pretending to be someone else is incredibly sexy, especially if it ties in to a long-held fantasy of yours. You get to explore it in a safe environment with your partner… but what should you do if you have no experience of role playing?
It is actually very easy to get started if you know how, so here on the Escort Ireland blog I will talk you through everything you need to know to try role playing for the first time. Not sure how to tell your partner about your fantasy? Want to know the equipment you'll need? Keep reading.
Discussing your fantasy
If you are eager to try out role play then you have a fantasy attached to a role of some kind. Otherwise, you'd simply explore costume play. It might be that you want to see what it would be like to seduce a cop and get out of trouble, or maybe you are turned on by the idea of a school mistress giving you the caning you deserve.
Either way, you'll need to start out by talking to your partner about your fantasy. This is often the most challenging part, as you may not know where to start. I recommend talking to them in a neutral environment, and not right before sex. If you wait until before sex they might feel like you want it now. This puts pressure on them, and usually you'll need to talk about your fantasies in a little more detail.
The best thing to do is to start by saying "I have a fantasy I'd like to talk to you about". Once they are listening and paying attention to what you have to say, you should be as open and honest about it as possible. Give them the chance to ask questions and then ask them if they think it is something they would like to explore with you. Explain to them that you don't want to try it immediately, as you know it will take time to work out, and often you'll find that the answer is yes.
If it isn't, don't guilt your partner for it. Your fantasy might not be for everyone, and they have at least listened to what you have to say. It might even be that they need a little time to think about it and do their own research. This is fine too. Give them the space that they need, and you'll find that they really appreciate it.
Set a role playing date
Once your partner says yes to trying out your fantasy and exploring the act of role playing with you, you might find that you start to imagine how it might happen. Many fall into the trap of fantasising it each time they have sex, but this isn't a good idea. It can put pressure on your partner to try and fulfil your kinky thoughts when they aren't prepared.
So talk to your partner and set a role playing date. This will be a time and date that you will explore it. Having a deadline gives you time to prepare and shows that you are really going to get to try it out.
Obviously you'll want to make sure that it is a time when you are both free of interruptions. It also ensures that you have the time to get anything you might need together and ready to go. If you need certain props you have time to buy them, and you can plan the things that you might say if you want to create a script for sex. Sex scripts aren't for everyone, but it can help if you are at all nervous about what to say. You don't even have to stick to it. You can use it as hints.
Getting the right equipment
Not all role plays are simple enough to dive into. A number of them need a little more to make them happen, such as equipment. For example, if we look at the school mistress fantasy from earlier, you'll need a cane with which to spank. For the police fantasy, you might want to invest in handcuffs.
You do not have to spend a fortune on the right equipment if you don't want to. In fact, when first starting out you might find it easier to stick to the basics. Adding too many props and pieces of equipment can make things complicated, especially for a first time.
Instead just choose one key piece of equipment. For police it could be the handcuffs. For the nurse you could use a stethoscope if you want to try temperature play. If you are eager to try the boss and secretary scenario, you could get your desk set up like a boss' desk so that you can fuck over it. By focusing on just one prop it'll make things much easier for you both and give you the time to really dive in to it.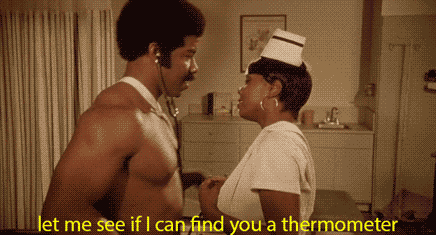 Enjoying your role play
When it comes to actually enjoying the role play, there are a few things that you should remember. Try not to take it too seriously. The chances are that, at some point, you or your partner or both of you will get the giggles. By not taking it too seriously you'll be able to take a break and then dive straight into it.
Try not to rush it either. You'll want to ease into it, especially if you are nervous. Take your time to build up to it and you'll find that it is so much better. If you need to take a break, tell your partner. Even better, set up a safe word before you get started. This gives you the chance to stop the action and discuss things if you need to.
Once you have enjoyed your role play scenario, take the time to sit down with your partner and talk about it. You might find that there are things they would change the next time you try it, or they might have some ideas for other fantasies to try out. It'll be great to explore it together! Got some more questions? Leave a comment in the box below!
Lara Mills is a writer who has four years of sex industry expertise behind her. Since she entered the adult industry, she has worked on the Escort Advertising forums, before moving into her current role three years ago.

Since then she has gained a fine reputation with her blogs on sex advice, sexual health and amusing news stories from around the globe. She is also a campaigner for the rights of sex workers from all over the world.

In her spare time, Lara keeps herself active by going running, and is something of a film buff. She also loves to go travelling.
Latest posts by Lara Mills (see all)