A kitchen is hot, especially when it comes to cooking up something delightful and delicious. It's a place that feeds and nourishes not just food. Sex in the kitchen is tasty because it's in essence a blend of smells, aphrodisiac foods, and kinky cooking with your lover. It's a sexy fact, kitchen sex is the fine art of shagging and improvising in a room that's already known for raising the temperature.
In a recent sexy study in the United Kingdom, aside from the bedroom, couples rated the kitchen as the next best scene to kink it up in the house. Sex in the kitchen is a wonderful alternative to the bedroom, or living room, as the feel and vibe is spicy and sizzling.
"The kitchen provides a wide variety of 'staging platforms' for pretty much any position you and your lover could enjoy," says sex expert Coleen Singer.
The kitchen is the hottest place to get it on indoors, perhaps because it's already known for making mouths happy. Something about shagging in unexpected places makes that sexy session steamier too. When it comes to shagging in the kitchen, there are key ingredients that serve that kinky recipe best. Stay tuned on how to make that kinky dining experience for two, a meal that hits the spot.
1. Stage that scene of kitchen kink
When the nose smells something delicious, the salivary glands get excited, along with the rest of that sexy body. So consider preparing something in advance that'll get that kitchen smelling great, even if it's just pre-made cookies that you throw into the oven for ten minutes. Along with what's cooking, set up that scene of kink with some aphrodisiac finger foods that'll oil those sexy hinges.
Learn which foods are aphrodisiacs by reading, '13 Fantastic Aphrodisiacs From Around The World'.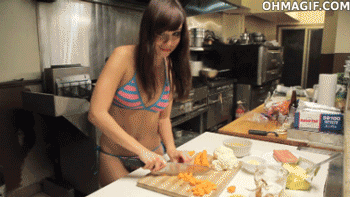 2. Food Foreplay
Use food to tease and play with your lover's body. Do you have whipped cream? Then cover her in a whipped cream bikini like in the movie, Varsity Blues. Do you have a piece of asparagus, or a cherry? Then drag it over her breasts, lightly tickling a way to her mouth, and then ask her, 'Slowly take a bite.' Eating is sensual; just take that vine of grapes, and hang it over her head like mistletoe, then watch as she opens, and takes those juicy balls inside of her mouth one at a time. From strawberries to honey to chocolate, the possibilities for food foreplay are limitless. Smear some on your lover, and then lick that sexy plate clean.
Laugh out loud at the food foreplay in this hilarious commercial from a grocery store that suggests, 'What you do with your groceries is your business'.
3. Buffet her booty
Sit her up on the closest thing to a pedestal, which in a kitchen is the counter. One of the key ingredients to having sex in the kitchen is to make use of the space, and that counter will support the weight for you. Get down on your knees, and eat that pussy like it's your last supper. Then when you stand up, she'll be dripping wet and primed for penetration.
"This is not only very hot from a visual and eye connection viewpoint, but it'll also give you a great deal of control of speed and depth of penetration." Singer exclaims.
4. Doggy-style her over that counter
Because most counters have her right above your hip level, they're ideal for the delicacy of doggy style. This is a shagadelic position that's great for deep penetration, and that counter is perfect for her to hold onto as dude takes her to pound town. Flip the script, and have her give dude a blow job, then he can take a break, and lean back against the counter while that sexy vixen drops to her knees to worship his wang. After which, you can switch the channel back again to Doggy style.
5. Improvise with kitchen paraphernalia
The spatula isn't just for flipping pancakes; it can also serve as a paddle for some spicy spanking. Having an open mind is the best when it comes to using cooking apparatus as erotic accomplices. For a sexy example, that sprayer in the kitchen sink that cleans off dishes can also double as a wet and wild sensation on her clitoris. Consider tying the dish towel around your partners wrists, or wrapping it over your partner's eyes for a dash of BDSM. As long as it won't cause too much physical pain, and there's an agreed upon safe word, all's fair in love and kitchen sex.
Learn more about increasing sexual tension in 'Tips for Using Blindfolds'.
6. Spice with Spontaneity
Let every angle, platform and kitchen apparatus heighten that romp banging y'all onto the next level. If she's rinsing something off in the sink, drop to the floor to check under the sink, and her skirt! The more imagination, creativity, and fun you have, the tastier this kitchen sex will become.
7. Kitchen sex is the appetizer
Sex in the kitchen is meant to be a quickie. Because after a while, the lack of cushioned surfaces does take a toll on your elbows, knees, and even the butt. By keeping each position short and sweet, you'll eliminate the tax and toll of sex in the kitchen positions. Regardless, shagging in the kitchen is a tasty appetizer, and a great way to pass the time while waiting for that sauce to marinate, or those cookies in the oven to brown.
Dinner has many courses, and kitchen sex just may be the first course, because after working up an appetite, whatever is cooking will taste even better. If you're cooking while shagging, then be sure you keep a timer on, or else you may end up unintentionally sending up smoke signals. Indeed the bloopers to sex in the kitchen range from smoke signals to burns. Perhaps it's best to take a look at Sex in the Kitchen to learn from other kinksters and their sex in the kitchen mistakes!
Have you ever shagged in the kitchen? Was it hot? Share its recipe in the comments below!
Latest posts by Gabriella Zene
(see all)