Avengers: Infinity War hit cinemas around the world last month and people haven't been able to stop talking about it since. Marvel described it as the "most ambitious crossover event in history", which the internet took as a challenge and turned into a meme. However, it seems that the film has indeed had a huge impact… particularly on the way that we have been searching for porn lately.
Rule 34 of the internet tells us that, if it exists, there is porn of it. Avengers: Infinity War doesn't escape this rule. So just how has the film's release changed the way we look at porn?
If you haven't seen the film yet, don't worry. This blog contains no spoilers for Avengers: Infinity War.
A popular search
Pornhub decided to take a look at Avengers: Infinity Porn, as they tend to do when a hot new movie releases. We already know from their 2017 Year in Review that the 'Avengers' were some of the most searched on the site.
The latest film in the series coming out hasn't changed that. In fact, the theatrical release of Avengers: Infinity War saw a 356% increase in searches for 'Avengers', showing that we aren't ready to hang up our capes yet.
This is interesting, as in the past we have seen that DC characters are more popular in searches than Marvel characters. Harley Quinn tends to win out over Black Widow… but the latest release seems to have changed the game slightly.
Which Avengers turn us on?
One of the easiest things to look at when it comes to searches like this is just which characters are the most popular. When it comes to searches made on Pornhub involving Avengers: Infinity War, it seems that there are some clear winners.
Black Widow comes out on top, which isn't at all surprising. She made one hell of an impact in Iron Man 2 and proved popular enough that she kept coming back. Surprisingly, Spiderman came in second on the list, beating Captain America, Hulk, and Black Panther.
The rest of the list has a mix of characters. It seems that we quite like a villainous character, as both Thanos and Loki appear on the list of most popular character searches. Thor, Scarlet Witch, and Iron Man also appear… but they don't come close to being our favourites. It seems that Natasha holds a place in our hearts… and in our wank bank.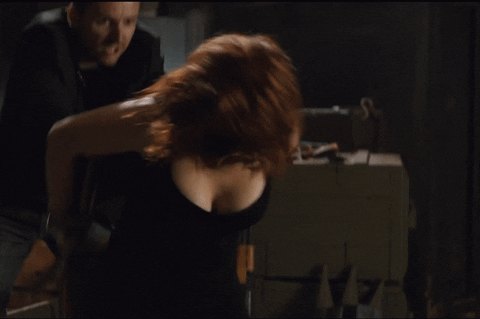 Who searches the most?
The majority of the characters we see headlining Avengers: Infinity War are male, so we shouldn't really be surprised that women want to search for them more. In fact, Pornhub tells us that "women are 28% more likely to search for Avengers related porn compared to men".
When it comes to age, it seems that the novelty of comic book porn wins out for the younger generations. It proved most popular with 18 to 24 year olds, as they were 88% more likely to search. 25 to 34 year olds were 20% more likely to search.
However, once you hit 35 it seems that searching for Avengers: Infinity War porn is not on your list of priorities. The likelihood of searches from these age groups drops dramatically, showing that they have other interests in porn.
Avengers: Infinity War
The film is difficult to escape lately. I haven't been able to go a single day yet without someone talking about the film and how amazing it was. But I have found that I am starting to get a little bored of comic book movies. Yes, I'm a geek and I love comic books, but are we oversaturated with them?
What do you think about this? Have you ever looked for Black Widow porn, or is there another Avenger you think we should be searching for when it comes to porn?
Let us know what you think, and even what you thought of the movie, by leaving a comment in the box below. Join in the discussion!
Latest posts by Lara Mills
(see all)