You know that there is no feeling quite as amazing as enjoying a slow and sensual massage from a partner. It feels amazing, especially after a long and stressful week at work. If you'd rather give the massage to your partner then you'll find it makes the perfect Valentine's Day treat, and with so little time before the big day it is a great idea to improve your skills… but how?
There are so many different ways that you can give your partner a slow and sensual massage, but if you have never done it before you want to give them an experience they will never forget! This is why we have put together our ultimate sensual massage guide to help you touch your partner in the right way this Valentine's Day.
Preparation is key
First of all you'll need to set the area for the massage. It won't feel anywhere near as romantic if you just get them to lie on the bed and give them a quick rub down. It will be much better if you create the mood, and there are a few things that you can do to achieve this.
For a start, dim the lights. You might want to add some candles to the area to make it more romantic, or you might simply turn down the lights to create a nice atmosphere. To one side you should also have some fresh towels to hand. These can be laid down on the bed to help collect any oil that attempts to soak into the bed and can help to dry them off afterwards.
Music is also an important part of a massage. It can really help to set the mood, but make sure you go for something suitable. You might like the latest songs on the radio but they aren't always relaxing. Instead go online and look for playlists. There are plenty of relaxing music playlists on places like YouTube and Spotify, so you will be able to perfectly set the atmosphere.
The next thing you will need is an oil to help your hands glide over their body. There are so many different ones that you can buy and you can easily find them in a number of different stores. You don't have to visit a speciality spa shop. If you have a health food store nearby, they'll have massage oils in there.
Massage oils really are the best for you to use. You could use things like body lotions and body butters, but they dry out really quickly. This means that you end up rubbing directly on their skin more than anything. It will make the massage memorable but for all of the wrong reasons.
The sensual massage itself
When it comes to the massage itself it can be difficult to know what kind of movements you should use. To start with, get them relaxed. Yes the massage will help with this, but allowing them to enjoy along soak in the bath first can really make a huge difference to their mood.
You'll want to start off slowly. This means soft, gentle stroke with your hands. Don't apply too much pressure as this will come in handy later. Instead, start at the very edge of their body, such as their hands or feet. Use slow strokes to move your hands along their skin. It'll feel nice and slowly ease you into it.
Once you have done this over their whole body, you can start applying pressure. You might be tempted to use your fingertips and thumbs, but this is something you should save for when you have more experience. Use the entirety of your hand rather than the tips of your fingers. You'll be able to cover more area and make them really relax under your touch.
You don't have to apply a lot of pressure. You can just apply enough for a firm touch. Use the heel of your hand as you move slowly over their body. Don't worry about applying too much pressure as your partner will tell you if it starts to hurt them.
Move from the outside of their body in, saving the best bits until last. Try not to touch their beautiful tits or wet pussy, if you are going to, until the very last moment. This will drive them wild.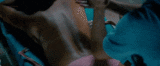 Happy ending or not?
For some people, a massage should have a happy ending. They are totally relaxed after the touch of your hands on their skin, but as your hands drift closer to their sensitive areas they might find themselves getting really turned on. This brings up to an important question: should a sensual massage have a happy ending?
For some people the answer is a definite no. You want to relax them, and though you love turning them on, they will get tense as they cum. So instead you want to stick to simply massaging them.
However if you really want to make your partner feel good this Valentine's Day, you might decide that a happy ending is for you. A happy ending will have them feeling amazing and really will be the icing on the cake after a fantastic massage.
What do you think? Have you got some great sensual massage tips you want to share? Do you think you should always get a happy ending after a massage? Let us know by leaving a comment in the box below, or by voting in the poll.
Lara Mills is a writer who has four years of sex industry expertise behind her. Since she entered the adult industry, she has worked on the Escort Advertising forums, before moving into her current role three years ago.

Since then she has gained a fine reputation with her blogs on sex advice, sexual health and amusing news stories from around the globe. She is also a campaigner for the rights of sex workers from all over the world.

In her spare time, Lara keeps herself active by going running, and is something of a film buff. She also loves to go travelling.
Latest posts by Lara Mills (see all)