Fifty Shades might have made more people interested in the world of kink, but not everybody is into BDSM. However, for a lot of people vanilla sex just isn't enough. They want something extra, something more exciting to take sex up to the next level. So what about rough sex?
You may not enjoy the extremes of BDSM, but for many people rough sex ticks all of the boxes of making sex better with a few simple twists. The problem is figuring out just what counts as rough sex. Some people think that anything not vanilla could be it, while others think it requires something more specific.
So what exactly counts as rough when it comes to sex? What kind of things do people usually do when they want to go rough?
Dirty talk
Sometimes it isn't enough for you to just have sex. You want something more, and dirty talk can give that to you. For many who want to enjoy sex on the rough side, dirty talk goes hand in hand with it, as you can explain your actions to your partner.
You can things to your partner like "I am going to fuck you so hard that you won't be able to keep quiet" or "I can't wait to see you gag on my cock".
It will let your partner know just what you have planned for your session and will set the mood. They might even talk dirty back to you, demanding that you fuck them harder and faster.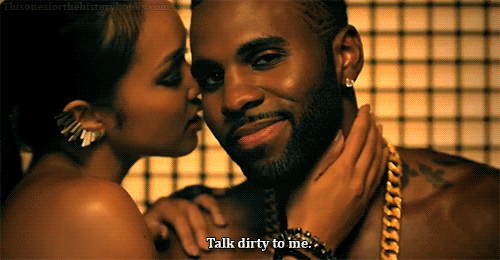 Hair pulling
Grabbing seems to be a popular technique to use when things get a little rougher in the bedroom. If you are in a position like doggy style, then you will find that you can easily pull your partner's hair a little to set the mood.
It will help to bring them closer to you and show a little control over them. If you'd rather that they were rough with you, they can grab a hold of your hair as you share a hot and passionate kiss, pulling your lips away from them to continue with the dirty talk.
Spanking
This is where rough crosses into BDSM territory. Spanking is a lot of fun in the bedroom if you do it in the right way, and for a kinky twist on sex it might just be what you were looking for to turn you and your partner on.
Doggy style is one of the more popular positions to enjoy when you want to go rough, and it lends itself perfectly to spanking. You can simply raise your hand and smack their ass as you thrust into them. If you time it right they'll get a rush of pleasure as you slide your cock inside of them at the same time as your hand contacts their ass. It'll be a mix of pain and pleasure, and if you then grab their ass hard after it'll show how much you love it.
Of course spanking doesn't have to just be one sided. Your partner might enjoy spanking you as you thrust inside of her. You'll find that it is fun to experiment and see just how hard you like to be spanked during sex.
Restraint
When we talk about restraint a lot of people jump straight to bondage, ropes, and chains. They imagine someone being handcuffed to a headboard so that they cannot move at all. Their partner could walk away from the bed completely and there would be nothing you could do about it.
With rough sex, restraint works in a different way. Instead of using items to restrain your partner, you will use yourself. This could mean holding their hands over their head as you fuck them, or putting your hands on their back to move them further into the bed as you fuck them from behind.
It can be a huge thrill, and you might find that you much prefer your partner to take control and pin you down for sex. She can have her wicked way with you and all you'll be able to do is lie back and enjoy it.
Harder and faster
The things listed above aren't for everyone when it comes to sex that is a little rough. For many it is too extreme. It is too close to BDSM for them to feel comfortable, so what can you do if plain vanilla sex isn't enough?
There are two things that you can do to make it really intense. You can go harder and faster during sex. This means deeper, longer thrusts to push your cock as far into their cunt as possible, and as many thrusts as you have the energy for.
Yes, this will drain your energy very quickly. However, it is perfect for quickies and for rough sex. You'll discover it is a lot of fun as your partner will start begging for you, moving to meet each thrust and demanding you go "faster" and "harder". If you aren't sure whether rough sex is right for you, this is a great way to experiment.
Do you enjoy rough sex?
One of the most important things before you try this is to talk to your partner about it first. It isn't something you can simply spring on your partner, especially if you want to try restraint and hair pulling. You need their consent first.
It is also an excellent idea to set a safe word, just in case one of you gets a little carried away. It can help to establish your boundaries and show what you both like.
How do you feel about rough sex? Is it your kind of thing or do you prefer to keep things more vanilla? Let us know by joining in the discussion below.
Latest posts by Lara Mills
(see all)