Guys, some of you may be sitting at home with a half-empty beer bottle in one hand, your cock in the other, and say to yourself, "Damn, wouldn't it be nice to have my cock in a girl's hand this Valentine's Day?". Okay, that last part isn't realistic, but it doesn't mean that you can't book a meeting with a courtesan on the most romantic day of the year.
Furthermore, what would be wrong about going on a date with an escort on Valentine's Day? It's no different than going out with a girlfriend or a fuck-buddy. The only main difference would be that you'd only have a lady by your side for a day or less.
Now, every man has a difference preference in a woman and the type of things he'd like to do on a date or in a bedroom. So, if you're thinking about arranging an intimate appointment with a courtesan on Valentine's Day, or just curious about what kind of service you'd be into, sacrifice a minute of your time to take our test down below.
Surprised or intrigued about your results? All of the three services are explained just beneath this sentence, and they all come with added gifs to keep you guys entertained.
The GFE Experience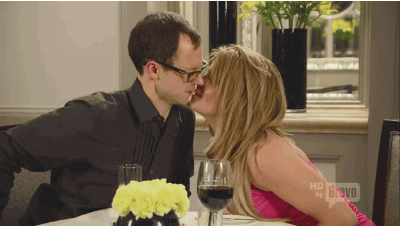 As the the text states, the GFE experience is exactly what it sounds like. It's a service that makes you feel like you're on a date with a gorgeous girlfriend that you've only started going out with.
What would happen in a GFE meeting? Well, anything that you'd think that is nice and romantic and shit like that. You can go out for a coffee, have a walk along the coast, enjoy a steak platter meal, or make love with the escort on a heart shaped bed that's covered in red rose petals.
The GFE experience doesn't stop there. You can take the meeting to a whole other level, and act like some of the couples from Girls.
For example, you can exchange jokes that would make you look like a freak with another person, but a funny freak to the escort. You can also express your feelings about life, society, and politics with the courtesan. Additionally, you can even have those tickle fights that can either to foreplay or a nose bleed.
The experience will not end until the door closes behind you, or when the time of the session is actually up. Therefore, if your main event finishes early, you're still allowed to send each other a text until the courtesan goes into overtime.
The PSE Experience
When I started writing for the blogs on this site, I had no fucking clue what PSE stood for, until one colleague thought it would be best for me to watch a few videos to really emphasise the meaning of PSE. He emphasised it very well.
The PSE Experience stands for 'Pornstar Experience', so, you can kind of guess what an escort meeting would entail…It's unlikely that an average guy gets the chance to fuck Asa Akira, Riley Reid, Karla Kush, or Sasha Grey (because she's out of the business now); I can't be blunter than that. However, it's likely that an average guy gets the chance to fuck someone that acts like Asa Akira, Riley Reid, Karla Kush, or Sasha Grey in the bedroom.
There may be a clip you saw on PornHub that captures your attention and make you think 'Ooh, I want to try that.' or 'Fuck, is that even possible?'. That clip may stay in your mind for a few days, until you get the realisation that you can ask 'someone' to reenact that clip with you; that's what courtesans with PSE Experience in their favourite services do well!
Mind you, the PSE Experience doesn't always involve re-enacting hardcore scenes and positions. It can also involve sensual massage scenes, softcore scenarios, or even sex scenes from movies that really catch your eye!
The Domination Experience
For those that don't have a clue what this type of service entails, the Domination Experience involves a half hour, or half a day, of you being a little piggy to a courtesan of your choosing.
Depending on your sexual orientation, or your kink, an escort that does Domination Experiences would sometimes be referred to as a Master or a Mistress if the courtesan is a man or a woman. If you're someone that gets a thrill in your boxers when you surrender your will to another person, then you're what the BDSM people would call a 'sub', which is short for submissive.
The types of domination services vary from mild to extreme, such as spanking, sissyfication, dog training, cock-and-ball torture, and financial domination. This is why the service is not for the faint hearted, and not for people that want to do it for cheap thrills.
So, how do you have a domination experience on Valentine's Day? Well, you can always invite a mistress out for dinner, order a glass of red wine for her and pay for her dinner. That would give her a good impression of you.
During that dinner date, you can discuss with the mistress what kind of things you'd like to do once you step into her private room or sex dungeon. Then, the rest is history, like this article.
Zoe Jaspers has worked in the adult industry for over a year, but she has already gained a fantastic reputation in the field. As a writer, she is passionate about bringing the reader some of the most interesting blog content around.

She is possibly most famous for her erotic stories, but is equally adept at giving top quality sex advice, all the time bringing in her 'personal experiences'.

When she isn't sharing her most intimate encounters, Zoe keeps herself active by watching videos on Youtube, and listening to music.
Latest posts by Zoe Jaspers (see all)