We are surrounded by dating apps and easy ways of communicating with others. Things like Tinder and Snapchat now make it even easier to get in touch with others for casual flings, or to send a few saucy sexts when we feel like it. And yet many people still look down on casual sex.
Having casual sex is meant to be bad for you. It shows that you can't commit, among a number of other things, or at least that is what others say. They believe that it is harmful, and that everyone should be settling down with just one person.
This isn't the kind of thing that most people want for their lives though. The majority of us are actually happy to continue having relationships with others without the seriousness of commitment. So is casual sex really bad for you, or are there a few benefits to this type of sexual relationship?
Low sense of self-worth
This topic has been touched upon a number of times throughout the years, thanks to the huge advances in technology. If you want to, you can now set up a profile on a dating app in minutes and arrange to meet someone for a quick, no-strings-attached fuck.
Given that people are expected to settle down and start families, this kind of attitude doesn't bode well. And so research began to investigate the trend of casual sex. The different studies have all seemed to disagree on whether this attitude to sex is actually bad for you.
To begin with, a number of the studies and pieces of research suggested that those who did fuck casually reported lower self-esteem than those who stuck to serious relationships. The belief was that, those who did hook-up in this way, were doing it to try and feel better about themselves… and it simply didn't work.
On the other hand…
However, while there were a number reporting that they felt worse for hooking up like this, not all of the people in the study said that they had a low self-esteem. In fact, some of them even said that they felt much better for having sex without the strings attached.
It was all about how they approached the hook-up. If they just wanted fun and enjoyment, and the ability to explore sex, they reported higher than average self-esteem, as well as satisfaction. They even found that they had lower levels of anxiety.
So what does this mean for casual sex? Well, it seems that it might not actually be so bad for you, as it is how you view it that can change things. If you were to try and use sex as a way to make yourself feel amazing, it might not work. However, if you just want to have fun and try new things in the bedroom, you'll be left feeling great!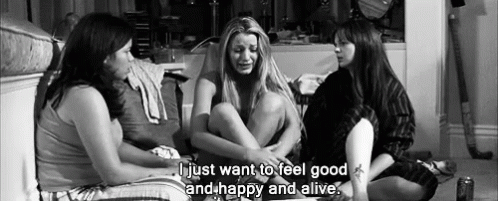 The benefits of casual sex
Despite popular belief, casual sex isn't actually bad for you. In fact, there are a number of different reasons why you might find that keeping things casual works out for your benefit!
Explore new things
Those in a serious relationship might find that they just don't get the chance to explore their kinks and fetishes as much as they were hoping to. Their partner might not be willing to try anything new in the bedroom, and so they are forced to ignore their urges.
This isn't the case with the hook-up. Many people taking part in one-night stands have stated that they feel they are free to try new things without judgement, as the chances are they won't see that person again.
Learn more about sex
If you stick with just having sex with one person, you are going to limit your sexual experiences. You want to expand your horizons so that you can really impress people in the bedroom, and the best way to do this is to keep things casual.
When you take someone new into the bedroom, you'll have to explore to find out what turns them on. You'll tempt and tease them to see what makes them tick, and often you'll uncover new spots to turn them on. These spots might just translate to other people, giving you new ways to impress in the bedroom. You can pick up plenty of new tricks too!
Keeping it casual
So it turns out that keeping things casual in bed isn't really bad for you, and that it is all about your attitude to it. If you go into a hook-up expecting to feel like a god afterwards when you feel low beforehand then you will be disappointed.
However, if you view it as a way to have fun and explore sex, then it might just be perfect for you. You'll learn new skills and feel great, so what is there not to like?
Are you a fan of casual sex, or do you like a more serious relationship? Let us know what you think by leaving a comment in the box below!
Latest posts by Lara Mills
(see all)