We love to get kinky during sex. Vanilla might suit some people but it isn't for everyone. We want sex to be exciting and thrilling, and one way you can guarantee this is with public sex. Fucking in the public eye is a huge thrill for so many different reasons.
The risk of getting caught is a huge turn on. It makes it more exciting, and the fact that we shouldn't be doing it just makes us want it more. However, there are a few essentials you need to think about when it comes to public sex, and we take you through them here on the Escort Ireland blog.
1. Choose the location carefully
First of all, you'll need to choose the location carefully. You can't just pick any old location, as it might not be suitable for your needs. For example, some are happy to fuck in a forest or in a park, where they can truly be outside. Some prefer to take the car to a secluded spot for their fun.
The location is important. You and your partner might like the idea of public sex but prefer not to actually get caught. So you could get away with fucking in your back garden. However if you want to risk to increase, you might want to think about somewhere a little busier.
2. Check how busy it is
Even if you do choose a busy spot, you can still time your sex so that you are there at a quieter time. This requires doing a little research.
You can do this by simply checking out the location at different times of day. Is there a set time that makes it seem suitable for public sex? Perhaps it is quieter in the evenings, and so would make for the perfect time to fuck? You can find this out by researching, so take the time to do so and your chances of getting caught will decrease dramatically.
3. Dress for access
When you want to fuck in public, you'll find that it is a lot easier for you and your partner if you dress not to impress, but for access. Going commando is a great idea, as you have less layers to try and put on if you find that someone is getting a little too close to your fuck spot.
Your partner might also opt for a skirt or a dress. This means that you can simply lift the skirt up to get access to their tight cunt, and if someone interrupts you can simply drop the skirt to hide any evidence that you were up to no good.
4. Do you want to be watched?
For some people, public sex means dogging. This isn't always the case, so you will need to sit down with your partner beforehand to discuss whether you want to have others watching you.
It can be a huge thrill to know that there are other eyes on you while you fuck. It can be an even bigger thrill if they don't hide their excitement over your actions, and you'll find that you put on a bit of a show to turn them on more. However, being watched isn't for everyone, so discuss it with your partner beforehand.
5. How far will you go?
Found that you love being watched? This is great, but you should also take the time to talk to your partner about just how far you will go. Some popular public sex spots tend to be those used for dogging. This means that couples will often fuck in view of others before swapping partners for a bit.
You might be perfect happy to take things to the next level, but your partner isn't. It is essential that you talk about it first to make sure you are on the same page. Otherwise you might have a nasty surprise in the middle of sex!
6. Be prepared to get caught
The whole point of public sex is that it is public. This means that you could get caught. It is part of the thrill of it and why we love it so much. However, while most of the time you will be lucky and avoid getting caught, you need to accept that you might be caught.
Don't just walk into it assuming you will never get caught out. Be prepared for it. Have some reasons why you are in this spot ready. If you dress for access as we suggested earlier you'll find it much easier to cover up, and so getting caught won't seem as severe.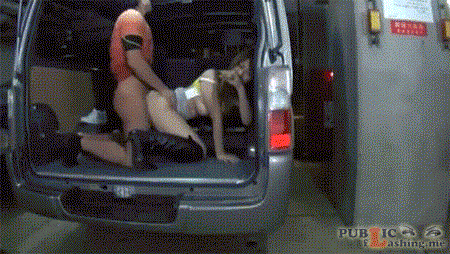 Do you enjoy public sex?
Fucking in public isn't for everyone. It might seem like a good idea when you first discuss it, and the thrill of almost being caught out might make you want to try more, but for some people it is an instant turn off.
If it isn't for you then that's fine. We are sure you can come up with a few different things you can do to add that extra thrill to sex. Do you want to try fucking in public, or have you more thrilling ideas you want to share? Let us know by leaving a comment in the box below.
Latest posts by Lara Mills
(see all)