Doggy style is a firm favourite for many of us. In fact, here on Escort Ireland we discovered that it is your favourite position to try in the bedroom!
Even though it is a position we really love, we might still get a little bored of it after a while. We need a way to spice it up… or maybe five fun ways to make it fun and exciting again! If you aren't ready to give up doggy style sex just yet, read on!
1. The lazy dog
This is honestly one of my favourite variations on this position, and it is ridiculously simple to do. All your partner has to do to enjoy it is to lie flat instead of being on their knees. It's a fun variation if they have trouble staying on their knees for too long, but it also allows for intimate sex.
You can bend over them and whisper dirty things into their ear. You can tell them just how good it feels to fuck them like this and that they feel so tight around your cock. You can thrust really slowly into them to drag it out, or you can go hard and see what happens.
It's even better if you are a touch on the smaller side. Your cock will feel as though it is really filling them as their legs are clamped tight together, and if you get the angle right you could be rubbing your dick against her g-spot with each thrust!
2. The sideways dog
Doggy style is perfect for a fast and furious fuck… but what about those times when you just want to take things slow and really tease your partner? Traditional doggy makes this a bit of a challenge, but with a minor adjustment you can have a slow and sensual fuck.
The sideways dog is another popular variation. As the name suggests, you'll instead get your partner on their side before entering them from behind.
Like the lazy dog, this position is perfect for those who aren't well-endowed. It will make your cock feel as though it is filling your partner, and because you are moving slowly, you can easily reach around and tease them too! You'll both enjoy your orgasms in no time at all.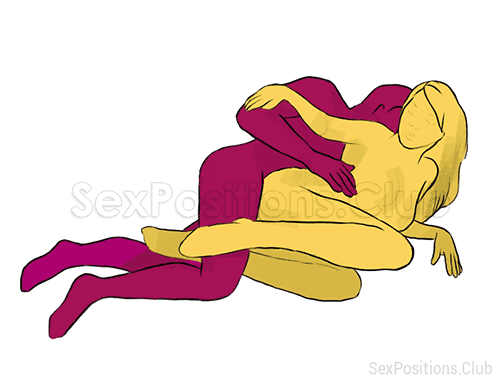 3. On the table
Taking your partner from behind is a lot of fun, but sometimes it is a little too much on your knees. Standing up is a good way to get some hard and fast thrusts in, but often it can seem like a little too much.
It can be especially tough if your partner has trouble bending over like that… which is why you should cheat at this position. Instead of just getting them to bend over and hoping they can maintain the position, get them over a table or a counter.
It gives them a little extra support while you fuck, but it also means you can keep at it for longer. They have support, you get to stand up and thrust hard into them. What could be better? This can feel even kinkier if you keep your clothes on, as it will then feel like a quickie.
4. The entwined doggy
Doggy style is fun, but when we get into the position your partner will either spread their legs or keep them closed. You can completely change how the position feels simply by moving your own legs and where they rest.
Instead of just keeping your legs tight together so you can thrust or wide apart for balance, you should entwine your legs with theirs. By doing this, it can completely change how sex feels for you both.
The slight change in angle might be just what your partner needs to help get them off, and by keeping your legs a little apart you'll have a steadier base. You can get some deep thrusts in as well, making this ideal!
5. The standing dog
Find that you can't wait to get into bed or even into another room to fuck in the doggy style position? Instead of getting your partner on all fours you can take them from behind with the standing dog position.
It is exactly as it sounds. You'll come up behind your partner and slip your cock inside of them. It's that simple. It makes for an excellent quickie position while still allow you to take them from behind.
It's perfect for the moments when you want to fuck them but have only just got through the door. It'll make things intense and fun, especially because you can easily reach around and help them out. They can even lift a leg up to allow you deeper access.
Why we love doggy style sex
There are so many different reasons why we love doggy style sex. It is our favourite position for a reason! To start with, we get to stare at our partner's sexy ass as we fuck. It feels amazing, and because of the angle you are much more likely to hit their g-spot and make them come!
Why do you like this position? Which is your favourite variation? Tell us all about it by leaving a comment in the box below.
Latest posts by Lara Mills
(see all)