Guys, have you ever had a whole banana shoved down your throat, or tried to stop yourself from regurgitating after you took a bit of buttercup syrup for your cold? If you've experienced any one of the two scenarios, congratulations, you can relate to a girl giving a guy a blowjob! If not, well, keep reading…
It may come as a shock to you, but not every girl on Earth enjoys sucking the love-juice out of you. Depending on how big you are, it can actually be a pain for girls to have a cock placed in between their lips without prior notice.
Personally, I enjoy giving blowjobs, especially when I force a guy to keep his hands away from my face. However, some of my friends can't enjoy their sex sessions because they feel like their mouths have been fucked by a pneumatic drill that smells like a net of dead fishes.
If you still can't realise that some women would rather masturbate alone than suck on your fleshy shaft, you should know the 3 reasons why girls hate giving blowjobs. Seriously, just read them.
#1 Your dick looks and smells like a bag of garbage
If a woman is going to trim her bush before she lets you go to the south, then you should do the same too. Every woman will have their own preferences when it comes to the length of a guy's pubic hair, or the style of his snail trail.
Some women love men with hairy balls, whereas others love guys with bald eggs. Nevertheless, one of the things that many girls hate is getting hair stuck in their teeth.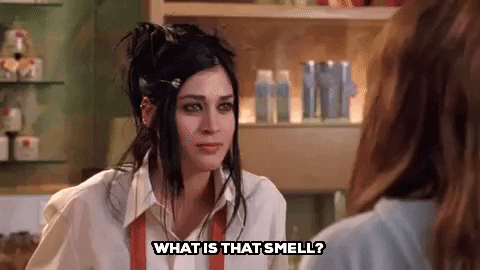 This has happened to me a couple of times a few blowjob sessions; it's awkward to stop and pull the little black strings out from my mouth. It's also awkward to try and not gag when the smell of body odour is coming from your crotch.
I'm sorry if you're eating and this is grossing you out, but it's the truth.
If you want a hot mama to go down on you, and make you feel like you've died and gone to heaven, then you got to make your cock look and smell like a saint. Some soap with a light scent would do the trick; it will make the girl feel like she's sucking you off in a field of lavender.
#2 You're taking too long to make the money shot
Guys, what happens to your quads when you keep doing sets of 10 on the squat rack for 20 minutes? They will start to ache, right?
And what happens to your jaw when you've been chewing gum at your work desk for the past half hour? It will start to ache, right?
So, what will happen to a girl's mouth when she's been sucking on your dick for 40 minutes because you haven't cum yet? It will start to fucking ache…right?
I understand that there is a lot of pressure for guys to cum on cue, especially if they're in the middle of a scene in a porn shoot, but you can't expect a woman to keep going and going until your fountain of youth finally shoots onto her face. Sometimes, you have to give yourself a little bit of help to make the money shot happen.
I help myself all the time whenever my pussy gets drilled for an hour straight. Do your girlfriend a favour, and get yourself a cock ring to make your blowjobs more intense.
#3 You're just too goddamn aggressive
Girls like their teeth, they like to have their pearly whites clean and pristine whenever they'd smile in their Instagram selfies. Well, apparently smiling in selfies isn't cool anymore, but 'fish gaping' is…
Anyway, if anything bad were to happen to a girl's set of teeth, there is a chance that she will be traumatised for at least 2 weeks. What bad things could happen to teeth, though? Well, she could have had them knocked out when a Spartan decided to use his cock as a hammer.
Not all women would appreciate you shoving your dick in their mouths with all guns blazing. If your manhood is quite big, or bigger than average, then you know that if you pound a woman's mouth without giving her any indication beforehand, there is a good chance that you'll have a part of her lunch all over your shaft.
It's a very awkward thing for both of you to experience. Plus, accidentally throwing up is a common phobia that most girls have, so there would be no point trying to push her head down to your crotch because she's just going to turn away.
On a side note, it's not so cool to push a girl's head down if you could feel her resistance. Then again, I'm just one woman with a lot of opinions inside my Asian head. Do I have a point, or am I just talking out of my ass?
Latest posts by Zoe Jaspers
(see all)